12.25.2021
This week is a special Best of episode, where each of the three hosts chose one of their favorite matches from the 50 episodes of STRONG that aired in 2021 to feature. The three hosts are Kevin Kelly, Alex Koslov, and NJPW STRONG Openweight Champion "Filthy" Tom Lawlor.
Alex Koslov's Pick
NJPW STRONG Openweight Championship
Tom Lawlor vs. Chris Dickinson
STRONG Episode 42 – "Collision 2021 Part 4" – 5.28.2021
Lawlor has been champion since 4.23.2021 and this is his first defense. Team Filthy (JR Kratos & Danny Limelight) are in Lawlor's corner. The two competitors are cautious with one another as they go for one another's legs. Dickinson lands a dropkick to take down Lawlor, enabling him to drag Lawlor to the apron where he damages Lawlor's leg against the ring frame. When they're both standing on the apron, Lawlor traps Dickinson's leg in the ropes and gives him a neckbreaker. He drives Dickinson into the mat with a slam when Dickinson begins building up some momentum against him in the corner. Dickinson reverses a figure four leg lock to escape that hold, and backs Lawlor into the corner to free himself from a rear-naked choke. He scores big with a superplex and numerous corner clotheslines. Limelight distracts the referee after Dickinson drops Lawlor with a Death Valley Driver. Dickinson forearms him off the apron, then turns to Kratos who is now on the apron behind him. Brody King comes out and takes care of Kratos on Dickinson's behalf, so that Dickinson can concentrate on giving Lawlor a brainbuster for a two count. He applies an STF, and it takes Lawlor a great effort to make his way to the ropes. When Dickinson tries another German suplex, Lawlor grabs Dickinson's wrist and puts Dickinson into a kimura lock, converting into an arm-capture tombstone piledriver. Lawlor Olympic Slams Dickinson and floats over into a Guillotine Choke. Dickinson is able to get his feet on the ropes. He kicks the crap out of Lawlor when they're back on their feet. Dickinson throws his way out of one rear-naked choke, but from the mat, Lawlor uses his feet to elevate Dickinson up and then down into another rear-naked choke. Dickinson back suplexes when he gets out. Lawlor ducks a clothesline and maneuvers Dickinson back into the choke, suplexing Dickinson onto his head out of the sleeper hold to get the pin at 21:16. This felt like a battle, and maybe the most difficult opponent Lawlor has had in NJPW to date. Lawlor had to withstand a lot of damage and use Dickinson's own movements against him in order to repeatedly wear him down and eventually dump him right on top of his head. This was a heck of a first defense for Filthy Tom. ***¾
Kevin Kelly's Pick
No Disqualification
Fred Rosser vs. Hikuleo
STRONG Episode 41 – "Collision 2021 Part 3" – 5.21.2021
Rosser attacks Hikuleo from behind to start the match, but Hikuleo caught him with a powerslam fairly quickly. Rosser manages to avoid being hit by a chair on the floor but gets sent shoulder first into a ring post twice. Rosser pummels Hikuleo into the backstage area after avoiding Hikuleo chokeslamming him onto a table that is placed on its side. Hikuleo throws Rosser through a door leading to the parking lot. There is still daylight as they fight into the back of an empty moving truck. Ultimately Rosser dives out of the truck, hitting Rosser with a flying forearm to the head. Back ringside, Hikuelo drops Rosser neck first onto the guardrail before setting up the table he had tinkered with earlier. Rosser stops a Death Valley Driver with a bulldog that sends both men onto the table, which does not break, but flips over from their collision. In the ring, Rosser manages the Gut Check and a running boot to the side of the head for the pin at 15:32. This whole feud I did not enjoy, so my expectations weren't high for the blow off, and it still somehow let me down. It was one of the most dull, nothing happening No DQ matches you will ever see. I said at this time that the most optimistic thing I could say about the match was that the feud ending should clear the path for Rosser to move onto bigger and better things, and it definitely did. *¾
Tom Lawlor's Pick
Juice Robinson vs. El Phantasmo
STRONG Episode 65 – "Showdown 2021 Part 1" – 11.6.2021
There was a lot of goofin' around to start this match, with atomic drops from Robinson, and back rakes and nipple twists from Phnatamso. Robinson got serious with a hard left jab, following that with a cannonball senton and a regulation senton. When Phantasmo tries a crossbody, it fails, and Robinson lifts him up into the Juice Box for two. Phantasmo is able to take Robinson off the top turnbuckle with a super Frankensteiner, but Robinson kicks out of his follow up splash. Phantasmo pays homage to former BULLET CLUB leader AJ Styles with the Styles Clash, which Robinson also kicks out from. Phantasmo tries for the One-Winged Angel. Phantasmo slips out and looks for Pulp Friction. Phantasmo shoves Robinson into the referee and low blows Robinson while the referee is down, but the referee is still down when he goes for a pin. Robinson blocks Phantasmo's superkick and lays him out with Pulp Friction for a slow two count. A lariat and the HHB (a fisherman's cradle driver) get Robinson the pin at 13:50. When you get a supreme babyface and chicken shit heel together, it's pretty great. The beginning part of the match easily could have been truncated, but once they got down to brass tacks it was very enjoyable. ***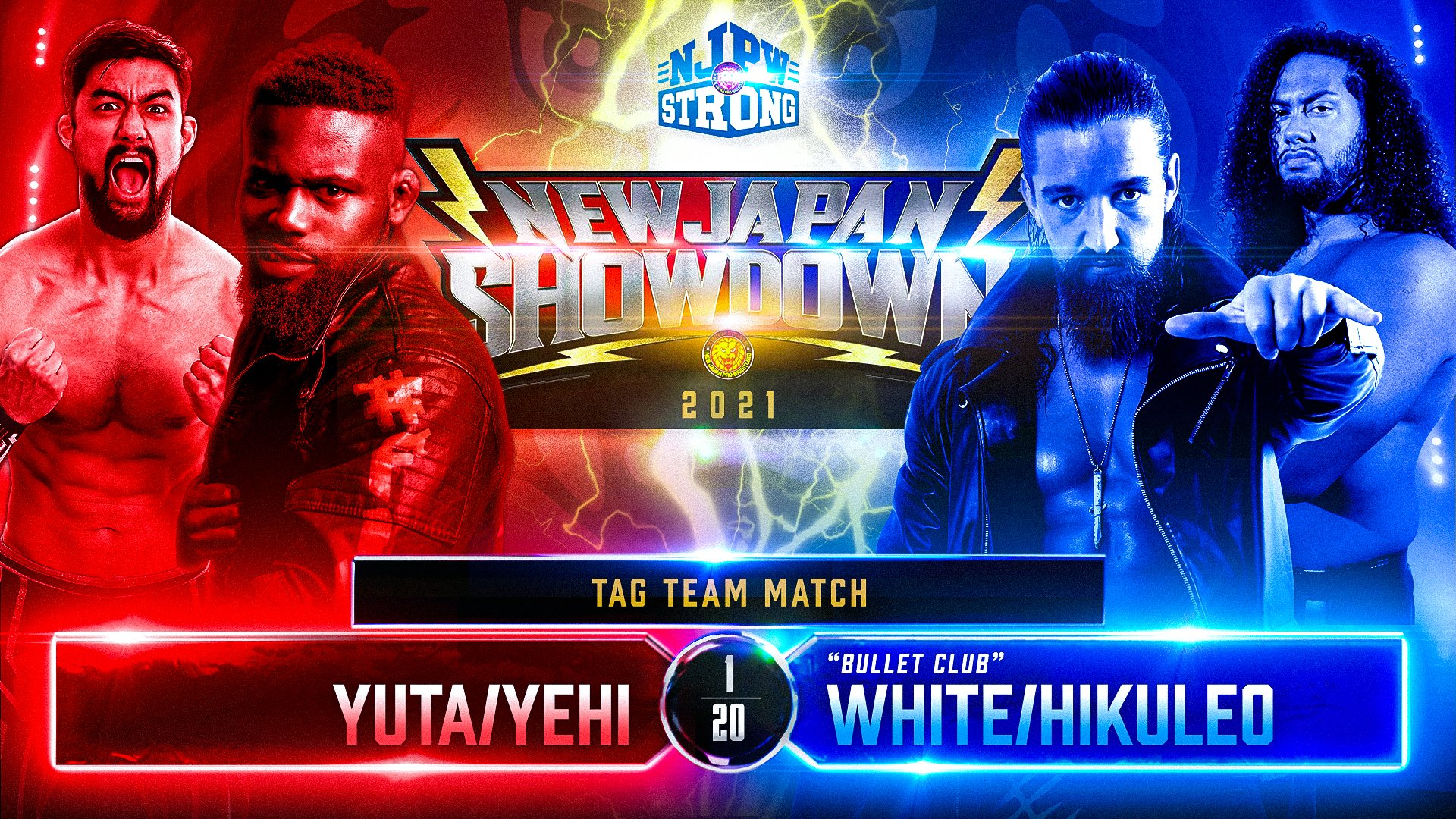 Fred Yehi & Wheeler YUTA vs. BULLET CLUB (Jay White & Hikuleo)
NJPW XTRA #9 – Philadelphia, PA – 12.26.2021
Both White and Hikuleo have defeated Yehi in singles matches, and White has defeated YUTA in a singles match, so we'll see if YUTA and Yehi are stronger together. White and Hikuleo bum rushed YUTA off the apron to try and sequester Yehi, but Yehi quickly took down White with a dragonscrew leg whip and boot to the side of the head. Yehi then knocked Hikuleo off the apron after he and YUTA inflicted damage to White's left arm and right leg. White, however, was able to bait YUTA to the floor where Hikuleo wiped him out with a big boot. The BC wear down YUTA, focusing some damage on his back, but after YUTA rolls over a backdrop attempt from Hikuleo, he was able to tag the Savageweight back into the contest. He unloads on Hikuleo, but White helps him turn the match back in his favor. As YUTA sends Hikuleo face first into the ring post, Yehi escaped a Blade Runner attempt and knocked down White with a rolling chop to the face. YUTA got a two count on White with a top rope splash. Hikuleo goozled Yehi over the top rope and to the floor, but YUTA sent Hikuleo out and took him down with a springboard splash. YUTA also wiped out White with a suicide dive. A fired up YUTA throws White back in the ring and basks in the crowd's adulation, but when he re-entered the ring, White caught him coming in with the Blade Runner for the pin at 12:01. YUTA and Yehi are both really good on their own, but I really enjoy seeing them in a tag team setting, and maybe that's their best fit for NJPW USA. If you read my past reviews, you can see I was a bit annoyed that the Blade Runner out of nowhere won White his matches, but with this finish, it's very clear that it coming out of nowhere is purposeful and I like it. Fun match, and a great choice for an XTRA. ***¼
Only one of the three matches featured on this Best Of made my Top 10, and it was more or less an eight way tie after #4. Here are my Top 10 NJPW USA matches:
Honorable Mentions: Moose vs. Tomohiro Ishii (Resurgence, 8.12.2021); Karl Fredericks, Clark Connors & Ren Narita vs. Will Ospreay, Jeff Cobb & TJP (STRONG Episode 70; 12.11.2021). As far as other matches I reviewed, Moxley & Lance Archer vs. Kenny Omega & KENTA from AEW Dynamite and Hiroshi Tanahashi vs. KENTA from NJPW Power Struggle tops the list.