Port Hueneme, CA – 2.5.2021
Commentary is provided by Kevin Kelly & Alex Koslov.
Kevin Knight vs. The DKC
This is a battle between the two newest LA DOJO students. Both are even in throwing strikes and throws. Each of them try some different submissions during the match, but it's after one of his signature dropkicks that Knight is able to lock on the Boston Crab. DKC crawls to the ropes to escape, and Knight uses the ropes to assist with three stomps to DKC. DKC comes back with his own one-footed dropkick and a falling chop for two. DKC locks Knight in a triangle choke and Knight submits at 7:23. Interestingly DKC defeated Knight just one second longer than Connors beat him the week before. It's nice to see that DKC's rebirth has yielded some success and a shiny new submission hold. Knight is so engaging – he's gonna be a big deal one day. **¼
Kevin Knight interviews IWGP United States Champion Jon Moxley who attacked KENTA last week. Their title match has finally been signed for February 26th. Moxley is tired of KENTA treating himself like the surrogate champion just because he possessed and defended his U.S. contendership briefcase. The KENTA he watched as a fan and who he saw attack Shibata at "Dominion 2019" is the KENTA he wants to wrestle, not the kind who cheats and depends on BULLET CLUB ambushes to win. Moxley says KENTA is going to have to kick a hole through his chest to win the title, and he wants KENTA to try.
Brody King, Barrett Brown & The Riegel Twins (Logan & Sterling Riegel) vs. Adrian Quest, Bateman, Jordan Clearwater & Misterioso
Brown and Quest wrestle to a stalemate. King then takes the lead, aiding the Riegel Twins in taking down Clearwater and Misterioso. Bateman knees Logan from the apron as Logan hits the ropes, allowing for Misterioso to muscle them up into a facebuster. Logan gets beaten down by all of the opposing team, but he finds reprieve when he spikes Bateman with an elevated DDT. King cleans house upon tagging in. The Riegel's land stereo dives onto Quest and Misterioso as Brown pescado's onto Clearwater and Bateman. Brown rolls Bateman to King who drops him with a piledriver. Brown goes for a pin but Clearwater makes the save. Misterioso and Clearwater double superkick King and aid Quest with a Code Red onto him. Brown avoids a springboard kick from Quest and drops him with a flipping DDT. The Riegel's drop Misterioso with a Doomsday Blockbuster. Clearwater wipes out the Riegel's. Brown nails him with the .50 Caliber Kick. Bateman catches Brown's headscissors attempt and drops him with a spinning tombstone piledriver for the pin at 11:19. Amongst the really fun wrestling, we got to see the relationship between King and the Riegel's further solidify and Bateman make a statement in being crafty and aware enough to win the match for his team when it seemed like the chips were down. Consider this a win. ***
TJP vs. Rey Horus
After some fairly even wrestling, Horus armdrags TJP to the outside. TJP swoops in as Horus goes out and spin kicks Horus to the floor. Horus gamengiri's TJP from the floor, but as he attempts a high crossbody, TJP dropkicks him out of mid-air. TJP snaps Horus' back in a full body stretch. He continues to wear down the back. Horus pops his way up to TJP's shoulders and takes him down with a Frankensteiner. Horus kicks TJP to the floor and follows with a tope con hilo. TJP shoves Horus down to avoid some offense off the top, but misses a shoulder tackle in the corner. Horus kicks TJP from the floor before taking him down with a Spanish Fly for two. TJP feigns knocked out to lure Horus into an Octopus Stretch. He rolls him from that position into a crucifix driver for two. TJP spikes Horus with a springboard DDT for two. Horus rolls away from a Swanton attempt. He is able to follow TJP to the top rope when TJP climbs again and brings him down with the Roll of the King for the pin at 10:41. With TJP as a regular it was a pleasant surprise to see Horus pick up the win, especially since the match leaned so much in TJP's favor in the latter portion of the bout. Their styles are so in sync, which made their fluid offense come off even more smooth and exciting. This was a good way to end the show, and makes me hope for more Horus in NJPW. ***½
The February 10th episode of AEW Dynamite featured a tag team match building up KENTA and Moxley's U.S. Heavyweight Championship bout.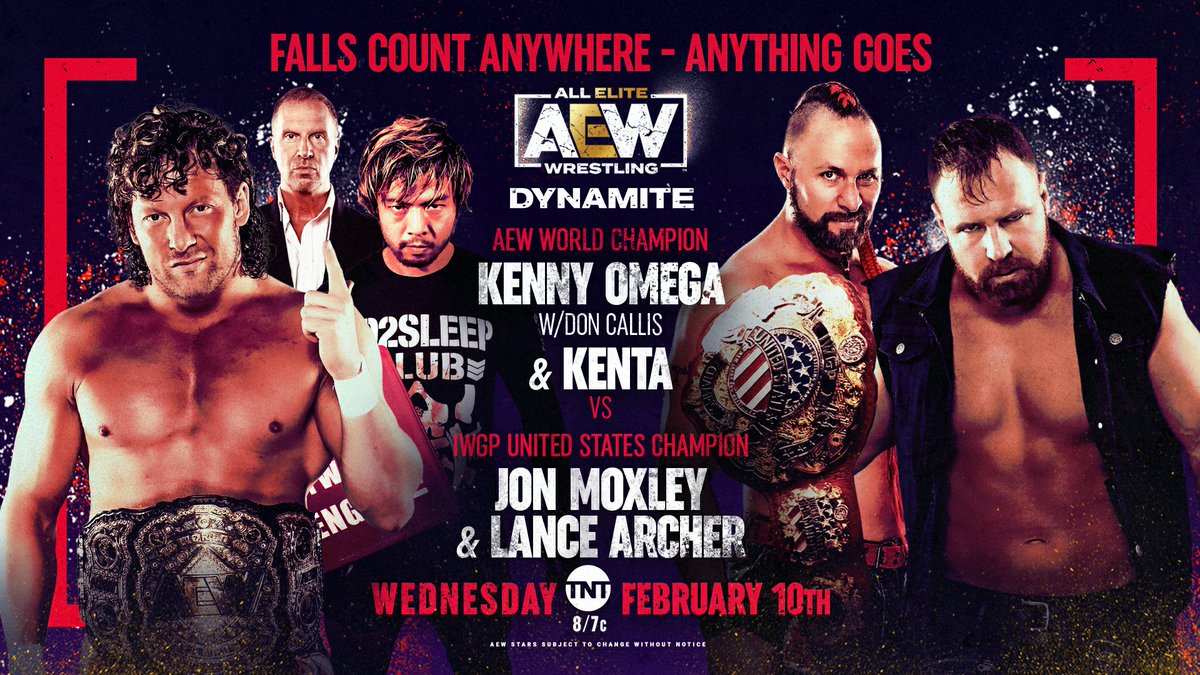 Falls Count Anywhere; Anything Goes
Jon Moxley & Lance Archer vs. Kenny Omega & KENTA
AEW Dynamite #71 – Jacksonville, FL – 2.10.2021
There's a lot of history between these four men. Kenny Omega was the inaugural IWGP U.S. Heavyweight Champion, and in December defeated Moxley to become the AEW World Champion. Moxley won the IWGP U.S. Heavyweight Championship in June 2019, but had to vacate it when he couldn't make a title defense in October 2019. Lance Archer stepped in and won the vacated title, but then at Wrestle Kingdom 14, Moxley won the title back from Archer and has been champion ever since. The only person KENTA has wrestled in this match before tonight was Archer, who he defeated in the 2019 G1 Climax. Omega was a member of the BULLET CLUB before leaving NJPW, the faction in which KENTA currently belongs. Don Callis is in Omega and KENTA's corner, and Jake "The Snake" Roberts is in Moxley and Archer's corner
Once the dust settled from all four men fighting, Moxley and KENTA found themselves in the ring alone where they traded forearm strikes and running boots. Moxley escapes Go 2 Sleep and goes for the Death Rider, but before he can hit it, Omega nails him with a trash can. Omega also uses the trash can for a moonsault, and holds it onto Moxley's face so KENTA can dropkick it into him. Archer uses a ladder to wipe out both of his opponents, then throws Omega overhead by the throat onto the ladder as it is propped up in the corner. KENTA gives Moxley a Busaiku Knee as Moxley is seated in a steel chair. Pretty Peter Avalon had some Valentine's thing going on. KENTA takes him out with Go 2 Sleep, and Archer throws Omega through his heart shaped stage for two. KENTA and Moxley fight backstage where they find themselves in a kitchen where KENTA DDT's Moxley onto a stainless steel table. Moxley hits KENTA with a box of raw potatoes to break a crossface KENTA has on Moxley. Back in the ring, Moxley abuses Omega with a kendo stick until Omega catches him with a V-Trigger. Omega hits a second one on the floor, resulting in Moxley laying on the timekeeper's table. KENTA avoids being put through the announcer's table by Archer, and jumps off the stage with a double stomp onto Moxley onto the timekeeper's table! In the ring, Archer has Omega set up for the Black Out when The Good Brothers run out. Archer lays them out, as well as KENTA with a big boot. Anderson drops Archer with the Gun Stun. Roberts pulls him into a short-arm clothesline, but Gallows strikes Roberts in the throat. Moxley comes in with a barbed wire bat and takes out Omega and the Good Brothers. KENTA scoops him up and hits the Go 2 Sleep. Archer uses a body block to take out KENTA. KENTA and Omega both kick him low. The Good Brothers drop Archer with the Magic Killer and Omega hits the V-Trigger and One-Winged Angel to pin Archer at 19:58. KENTA pummels Moxley as he and Omega are announced as the winners. This had a lot more clever and unique moments than I anticipated. It did a solid job of building the KENTA/Moxley encounter, and making Archer look like a monster in defeat, as it took four men for Omega to finally be able to pull off two of his finishers and pin him. This may sound a bit ridiculous given the four participants involved, but I thought this overachieved. ***¾