In May of 2011, New Japan Pro Wrestling established the IWGP Intercontinental Championship during their first tour of the United States. It seemed at the time that the intention was to have that title serve as a bridge to the U.S. market for New Japan, but over time, the title grew into a significant secondary title in the Japanese market, far exceeding its initial purpose. Because of this, in May of 2017, New Japan announced the creation of the IWGP United States Heavyweight championship, which would serve the purpose that the Intercontinental Championship was supposed to. By this point, NJPW popularity in the U.S. had grown significantly since 2011, with almost all of their events being dual broadcast with English and Japanese commentary, a weekly show on AXS, and a strong partnership with Ring of Honor which allowed for NJPW competitors to compete in the U.S. on a regular basis. Still, New Japan looked to get more of an independent foothold in the U.S. so that they could hold events on their own, and the establishment of this title was to assist with that cause. A tournament was held on July 1st and 2nd in 2017 to crown the inaugural champion.
IWGP United States Heavyweight Championship Tournament Finals
Tomohiro Ishii vs. Kenny Omega
"G1 Special in USA – Night 2" – Los Angeles, CA – 7.2.2017
Ishii defeated Tetsuya Naito and Zack Sabre, Jr. en route to the finals, while Omega defeated Michael Elgin and Jay Lethal. In March, Ishii defeated Omega in the opening round of the New Japan Cup tournament, and Omega defeated Ishii at Wrestling Dontaku two months later. Omega was overly confident in the early going, attacking Ishii's back with a smile on his face. Ishii had enough of Omega's cockineess and decided to chop that poop out of him all around the Long Beach Convention Center. Unfortunately for Ishii, in this process, Omega gave him a vertical suplex on the floor. Ishii's tenacity enabled him to chop and headbutt Omega down once again back in the ring. After Omega catches Ishii with a spike DDT, he Finlay rolls him into a moonsault, giving some love to his Young Buck comrades who are ringside. Speaking of the Bucks, Omega distracted the referee with a faux knee injury so the Bucks could surreptitiously set up a table ringside. It took a lot of effort from Omega, but he managed to give Ishii a Dragon suplex off of the ring apron and through the table. Ishii made it into the ring just before a count out, and countered Omega's One-Winged Angel into a DDT. He also blocked a V-Trigger with a lariat. Ishii scores big with a superplex, but hurts his own back in the process. Each man scores with some big offense and nearfalls, including Ishii countering a Kotaro Krusher and dropping Omega with his own One-Winged Angel. After giving Ishii a brainbuster on his knee, Omega followed up with a V-Trigger. Ishii tried to fight back, but Omega shut him down with a Dragon suplex and another V-Trigger. Ishii amazingly kicked out at one. Omega spiked him with a reverse Frankensteiner, hit a third V-Trigger, and then landed the One-Winged Angel for the pin at 31:20 to become the inaugural champion. With Omega and Okada's two amazing matches happening in the previous months, the entire wrestling world was on an Omega high, making him a perfect candidate to first win this title. Omega's neck and back work on Ishii was a very interesting and easy story to follow, and Ishii came off as the biggest badass in the world for fighting through the pain as much as he did, especially in the final moments. The crowd was super hot for the match too which only added to the atmosphere. All the elements came together to start the IWGP U.S. title's lineage on the right foot. Omega celebrates with the Bullet Club afterwards. ****¼
IWGP United States Heavyweight Championship
Kenny Omega vs. Jay White
"The New Beginning in Sapporo 2018 Night 2" – Sapporo, Hokkaido – 1.28.2018
Earlier in the month at "New Year's Dash", White turned down Omega's invitation to join the BULLET CLUB, dropping him with the Blade Runner, his name for the Shell Shock which he adopted from Alex Shelley during his U.S. excursion. White then joined the CHAOS faction so he would have back-up against Omega and the BULLET CLUB. The Young Bucks are in Omega's corner.
White staying one-step ahead of Omega early on seemed to throw the champion off guard, especially when White countered Omega's springboard moonsault attempt off the guardrails by pulling him down into a Saito suplex. White punishes his back further with a slam on the exposed floor. In the ring, Omega goes to White's eyes to escape a Muta Lock. Omega gets some momentum after reversing a suplex, telling White "you can't escape" before giving him a Finlay Roll/moonsault combo. White gets in a few shots before Omega sends him to the floor with a Frankensteiner and follows with a tope con hilo. White kicks out of the Kotaro Crusher. He blocks Omega's V-Trigger attempts, surprises him with a Complete Shot. A German suplex and running Death Valley Driver get him a two count. Omega blasts White with a V-Trigger as White hits the ropes. White goes to the apron, only for Omega to knock him to the floor with another V-Trigger. Omega powerbombed White onto a row of chairs and headed back to the ring, hoping to win by countout. White makes it back in the ring, but is met with a V-Trigger to his spine and snap dragon suplex. Omega traps White in the ropes before hitting on more V-Trigger and then a Jay Driller, and amazingly, White kicks out. Omega gets angry when Red Shoes stops his count as White's shoulder just barely comes off the mat. Omega goes for the One-Winged Angel. White slides out and basically collapses mid-suplex. White finds the strength for a sleeper suplex and Kiwi Crusher. Omega fights out of the Blade Runner the first time, but White hits it the second time for two. Omega V-Trigger's White in the back of the head. Omega goes for the One-Winged Angel, but White slips out and hits the Blade Runner again for the pin at 29:54! White manhandling Omega at the beginning of the match, and then later fighting back after taking so much punishment was an intriguing story to show White's tenacity. It worked, as the crowd who was wholly behind Omega to start got into White's kick outs and popped big when he won the title. The win was overshadowed by the BULLET CLUB storyline after the match, but I felt this achieved its goal in establishing White as part of NJPW's upper crust, with the understanding work was to be done in order for him to remain in that spot. ****
IWGP United States Heavyweight Championship
Jay White vs. Juice Robinson
"G1 Special in San Francisco" – Daly City, CA – 7.7.2018
Jay White injured Robinson's forearm with a steel chair in Japan, and it is made known that if Robinson uses the cast on his hand during the match as a weapon, he can be disqualified. Robinson tackles White to start and throws him into several barricades around ringside. White turns things around with a Saito suplex over the top tope and to the floor. He gives Robinson a taste of his own medicine by throwing him into the barricades twice before bringing him back inside the ring for another suplex. Robinson uses the ropes to break a Muta Lock. The fans boo White as he mocks Robinson with his own signature jabs. White also twists on Robinson's injured hand and wrist. Probably the most memorable part of this match is when White suplexes Robinson into the barricades right in front of the English announce desk, which knocks Jim Ross out of his chair. Josh Barnett left commentary and pursued White, but cooler heads prevailed and no contact was made. The two men continue to fight on the floor and apron, with Robinson scoring with a side Russian leg sweep off the apron and to the floor. Robinson gives White a super brainbuster for two. White counters Pulp Friction by bringing Robinson down with elbows to the side of the head. Even when Robinson gets to the ropes it takes a long time for him to release. Robinson escapes the Blade Runner, but has to be stopped by cracking White with a left hand in order not to be disqualified. White low blows Robinson behind the referee's back, but with the referee in the corner, he is able to use the left hand without being disqualified! Pulp Friction follows and gets Robinson a very close two count. White hits his hurt hand to block a second Pulp Friction. He gives Robinson a chicken wing suplex, then a half-nelson suplex right on his head. White pulls him up into the Blade Runner. Robinson counters with a schoolboy, placing all of his body weight on the cradle, and pinning White at 23:22! Even before the incident, commentary was really not helpful in explaining the backstory of the match. Thankfully, the live crowd was way behind Robinson and hated White, which made for an awesome atmosphere for when Robinson finally came out on top. You could see how much of White's personality changed from his title win to his title loss too, as he had no regard at all for anyone in the building but himself and exploited Robinson's weakness at all opportunities. White seems to be a polarizing individual, but I can say with certainty I thought at least the beginning and end of his U.S. title run was well done. ****
IWGP United States Heavyweight Championship
Juice Robinson vs. Cody
"Fighting Spirit Unleashed" – Long Beach, CA – 9.30.2018
The G1 tournament would keep Robinson busy, resulting in no title defenses between his win and this defense. Cody pinned Robinson in a tag team match on the final night of the G1 to earn this match. Cody also won the NWA World Championship earlier in the month, which he wears to the ring. Brandi Rhodes is in his corner. Cody angers Robinson with some of his early shenanigans. Cody looks to follow Robinson out to the floor with a dive off the top, only for Robinson to catch him upon landing and give him a belly-to-belly suplex. Brandi feigns Robinson colliding with her to allow Cody to sneak attack Robinson. She also holds onto his foot when he gets in the ring, resulting in Robinson following her to the floor. Cody catches Robinson coming in with a Complete Shot for two. After avoiding each other's finishers, Robinson cannonball sentons Cody in the corner. Brandi rakes Robinson's eyes after Cody sends Robinson to the corner with a Frankensteiner. Robinson is able to land a high crossbody after ducking a Disaster Kick. Cody trips Robinson and applies the figure four leg lock. Robinson reverses the hold and Cody gets the ropes. He spits water into Robinson's face and lands the Disaster Kick for two. Robinson counters Cross Rhodes into Pulp Friction, but Brandi pulls Cody out of the ring. When Robinson goes to get him, Cody delivers Cross Rhodes onto the floor! They both make it back inside before the count out. Cody ends a strike exchange with an eye poke and superkick, and drops Robinson with Din's Fire for two. Robinson stops Cody as Cody climbs the ropes. He superplexes Cody, but Cody small packages Robinson after landing, pinning him and winning the title at 16:45. I have no knock on the wrestling itself but just about everything else in this match was a turn off: too much Brandi, blaise finish, and ending Robinson's reign when there definitely was more juice in the squeeze (pun intended). ***
IWGP United States Heavyweight Championship
Cody vs. Juice Robinson
"Wrestle Kingdom 13" – Tokyo, Japan – 1.4.2019
Cody had not defended the U.S. title since winning it, but had lost the NWA World Title and ROH Six Man Tag titles in the meantime. AEW had just announced it's launch three days prior, so the ending was more or less a foregone conclusion before the match began. He's even wearing Jacksonville Jaguars inspired gear like a real cuck. Cody's shenanigans all fail him: a belt shot doesn't connect, a fake ankle injury is quickly thwarted, and Brandi's interjection has no effect. Robinson avoids a figure four and gives Cody the Juice Box. Brandi literally covers Cody so Robinson won't come off the rope with something. On the apron Robinson tried Pulp Friction but was sent left shoulder first into the ring post. Cody distracts the referee so Brandi can spear and pummel Robinson. Referee Tiger Hatori catches her and sends her to the back. Cody is able to halt a Pulp Friction and land Cross Rhodes for two. Robinson is able to drop Cody with his own Cross Rhodes for two. Cody responds with his Robinson's own Pulp Friction for two. Robinson wins a battle of jabs, even after being whipped by Cody's weight belt. He hits Cody with the Left Hand of God to block a Disaster Kick. A second Left Hand of God leads to two Pulp Frictions and Robinson becoming a two time U.S. champion at 9:02. Everything with Brandi was just the worst. There's some poetic justice to Cody losing on his first defense back to the man he defeated on his first defense, but then what was the point? To have Cody's name in the title lineage forever? Who cares? Hopefully there is nothing nearly as frustrating as this in the rest of the title's lineage. *
Videos targeting Robinson began to air in Spring 2019, and at Wrestling Dontaku in May, it was revealed that Jon Moxley was the man behind the videos. Moxley had left WWE on his own accord the previous month, and him coming to NJPW was a big coup, especially considering the buzz he had from debuting as a surprise at AEW's inaugural PPV just two weeks prior. His debut match in NJPW would be against Robinson for the U.S. title.
IWGP United States Heavyweight Championship
Juice Robinson vs. Jon Moxley
"Best of the Super Junior XXVI Night 15" – Tokyo, Japan – 6.5.2019
As one would expect, this is very brawl heavy, with Moxley taking the fight into the crowd after landing a suicide dive. They end up by the entrance, which Robinson somersault sentons off of onto Moxley. Robinson whips Moxley into the barricades but thrashes his back trying to follow Moxley with a somersault senton, only to crash into the barricades himself. Moxley attacks Robinson's left leg. Robinson gets busted open above his left eye which Moxley targets. Robinson stops him with a spinebuster. After a pescado, Robinson gets two with a Juice Box back in the ring. Moxley shoves Robinson off the top turnbuckle and he collides face first onto the ring apron! Moxley uses a chair-assisted elbow smash onto Robinson on a table, then suplexes Robinson through the table. Moxley goes back to attacking Robinson's legs when he kicks out of a release vertical suplex. When Moxley goes to the top turnbuckle, Robinson throws a chair at his head to knock him back to the mat. As they're fighting, Moxley blocks the Left Hand of God and goes for the Death Rider. Robinson dumps himself and Moxley outside to prevent that from happening. Thanks to the Left Hand of God, Robinson is able to successfully somersault senton onto Moxley against a table against the barricades. Robinson breaks the table by powerbombing Moxley through it. Moxley goes after the leg again, but Robinson fights back and rolls up Moxley with all his body weight, the same way he won the title from Jay White, for a two count. Moxley pulls him into a DDT for two, then hits the Death Rider for the pin at 24:14. This was Moxley's first post-WWE match, and you could see he was motivated and rejuvenated, putting his all into this battle, and Robinson doing the same. They had the Ryogoku crowd rocking from beginning to end and seemingly genuinely surprised by the title switch. One of the finest incorporations of brawling into a match I have seen. ****¼
Typhoon Hagibis would prevent Moxley from traveling to Japan and making his first defense of the title against Robinson. As is the case when a champion misses an advertised title defense, the title was vacated. Lance Archer would step in to face Juice Robinson to determine the new champion.
IWGP United States Heavyweight Championship; No Disqualification
Juice Robinson vs. Lance Archer
"King of Pro Wrestling 2019" – Tokyo, Japan – 10.14.2019
Robinson uses a chair outside the ring before whipping Archer into the barricades. Archer big boots Robinson to stop a charge and chokeslams him through a commentary table! Archer sends Robinson into some chairs propped up in between the turnbuckles. Robinson crotches Archer as Archer walks the top rope and brings him down with a superplex for two. He sends Archer through a table previously set up in the corner with a somersault senton for two. Archer pounces Robinson through another table in a corner. He also punches a chair into Robinson's face. Robinson blocks the EBD Claw and hits the Juice Box for two. Robinson brings a pile of chairs into the ring. He loses his footing for Pulp Friction on those chairs, allowing Archer to counter with a half-nelson slam onto those chairs. Archer then gave Robinson a Black Out onto those chairs, with Robinson shocking Archer by kicking out at two. Archer throws the back of Robinson's head repeatedly into the chairs before pinning Robinson with the EBD Claw as he dug his knee into Robinson's throat at 14:58. I have very mixed feelings on the general rule of vacating the title when a defense isn't made, but I do think because Archer had such an impressive G1 showing, him substituting for Moxley against the former champion worked out. The match itself was just OK – some of the big offense was exciting, but mostly this was just slow. **¾
Moxley would get a chance to reclaim the U.S. title three months later on the first night of the first ever two night Wrestle Kingdom event.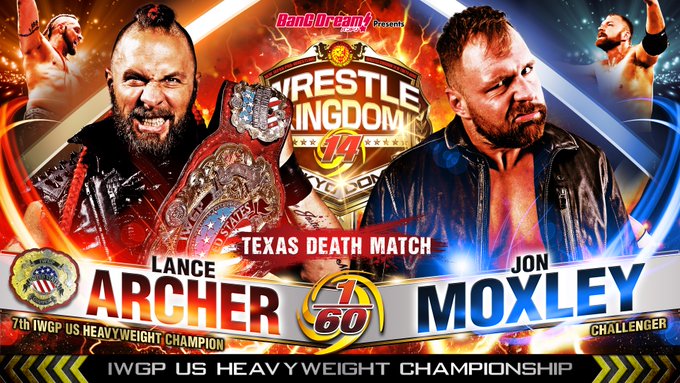 IWGP United States Heavyweight Championship; Texas Death Match
Lance Archer vs. Jon Moxley
"Wrestle Kingdom 14 – Night 1" – Tokyo, Japan – 1.4.2020
Under these rules, your opponent must stay down for a count of ten. Moxley sends Archer up the aisleway with a suicide dive. In the ring, Archer throws a chair at Moxley's head as Moxley tries to attack with a kendo stick. He chokes Moxley with the kendo stick. Archer loses his footing walking the top rope, costing him dearly as Moxley wails on him with kendo stick shots. Moxley is also able to stop a Pounce from Moxley with a trash can lid shot to the head. Moxley suplexes Archer onto the lid between two chairs and sends him to the floor with a running knee strike. Archer stops a pescado with a chokeslam on the ring apron, and chokeslams a young lion attendant onto Moxley for good measure. Archer also dives onto Moxley and a bunch of others. He sets up four chairs in the middle of the ring and throws Moxley through them with the Black Out! Archer tries pinning Moxley with the EBD Claw, but Moxley turns that into a cross armbreaker. Archer suplexes him overhead to escape. Moxley counters a chokeslam with a double arm DDT. Archer comes back with a Pounce and chokeslams Moxley onto a chair. He chokes Moxley with a plastic bag, then looks for a Black Out onto two tables ringside. Moxley escapes. Acher is about to chokeslam Moxley through the tables when Moxley hits the Death Rider off the apron and through both tables! A bloody Archer is unable to get up by the count of ten, making Moxley the winner and new champion at 14:26. Sometimes when this stipulation is used, they abuse the ten counts to death and it gets real old real fast. Not here – the referee knew when it actually seemed like enough damage may have been done to trigger the possible match-ending count and otherwise let them do their thing. Fortunately, both guys are ass kickers who are all about brawling and using weapons, and it made for a very fun match with a killer ending. ***¾
Moxley would go on to defend the title successfully the next night against Juice Robinson at Night 2 of Wrestle Kingdom, and again against Minoru Suzuki a month later at The New Beginning in Osaka. That would be Moxley's final appearance in Japan, as the COVID-19 pandemic would then make international travel difficult if not close to impossible. That's not to mention Moxley's obligations to AEW in the United States as their World Champion. Fortunately, New Japan was starting a new chapter of their U.S. expansion, and the U.S. title would play a role in that project's launch.