Port Hueneme, CA – 5.21.2021
Commentary is provided by Kevin Kelly & Alex Koslov.
Alex Coughlin vs. Bateman
Bateman attacked Coughlin's neck, which is wise as Coughlin recently returned from a neck injury. Coughlin seemed to have things turned around when he blasted Bateman with a flying shoulder tackle. He also kicked out after Bateman trapped his right arm, hit him with a lariat, and dropped him right on his neck with a 2k1 Bomb. Coughlin had Bateman in a cross armbreaker, but bailed for a pin attempt. Bateman slipped out of a slam, clobbered Coughlin in the back of the neck with a forearm, and dropped him with This Is A Kill (tombstone piledriver) for the pin 9:43. Totally solid wrestling and an easy story to follow. **
Brody King & Karl Fredricks vs. Team Filthy (JR Kratos & Danny Limelight)
An attack before the bell allows Team Filthy to beatdown Fredericks in their corner from the start. Fredericks catches Limelight with a spinebuster and tags in King, who slugs it out with Kratos. King tosses Limelight onto the floor onto Kratos, then inside the ring nails Kratos with a lariat for two. Limelight helps turn things around for Team Filthy. Kratos wipes out King with a Sick Kick, but Fredericks breaks the count. King and Kratos fight back to the floor. Limelight tries the Symbiote DDT, but Fredericks tosses him away upon Limelight landing his springboard. He puts Limelight down with a sleeper hold and then hits Manifest Destiny for the pin at 8:02. With the big battle last week and Team Filthy moving on to a feud with Dickinson, this felt like an unnecessary epilogue to this rivalry. It was totally fine and fun to watch, it just ultimately felt a little meaningless. Fredericks picking up wins is never a bad thing, though. **½
No Disqualification
Fred Rosser vs. Hikuleo
Rosser attacks Hikuleo from behind to start the match, but Hikuleo caught him with a powerslam fairly quickly. Rosser manages to avoid being hit by a chair on the floor but gets sent shoulder first into a ring post twice. Rosser pummels Hikuleo into the backstage area after avoiding Hikuleo chokeslamming him onto a table that is placed on its side. Hikuleo throws Rosser through a door leading to the parking lot. There is still daylight as they fight into the back of an empty moving truck. Ultimately Rosser dives out of the truck, hitting Rosser with a flying forearm to the head. Back ringside, Hikuelo drops Rosser neck first onto the guardrail before setting up the table he had tinkered with earlier. Rosser stops a Death Valley Driver with a bulldog that sends both men onto the table, which does not break, but flips over from their collision. In the ring, Rosser manages the Gut Check and a running boot to the side of the head for the pin at 15:32. This whole feud I did not enjoy, so my expectations weren't high for the blow off, and it still somehow let me down. It was one of the most dull, nothing happening No DQ matches you will ever see. The best thing I can say is hopefully this clears the path for Rosser to move onto bigger and better things. *¾
We saw that both Rocky Romero and Ren Narita were in attendance at AEW for Yuji Nagata's IWGP U.S. Title match a couple weeks ago. On the May 24th edition of AEW Dark Elevation, both of them were in action: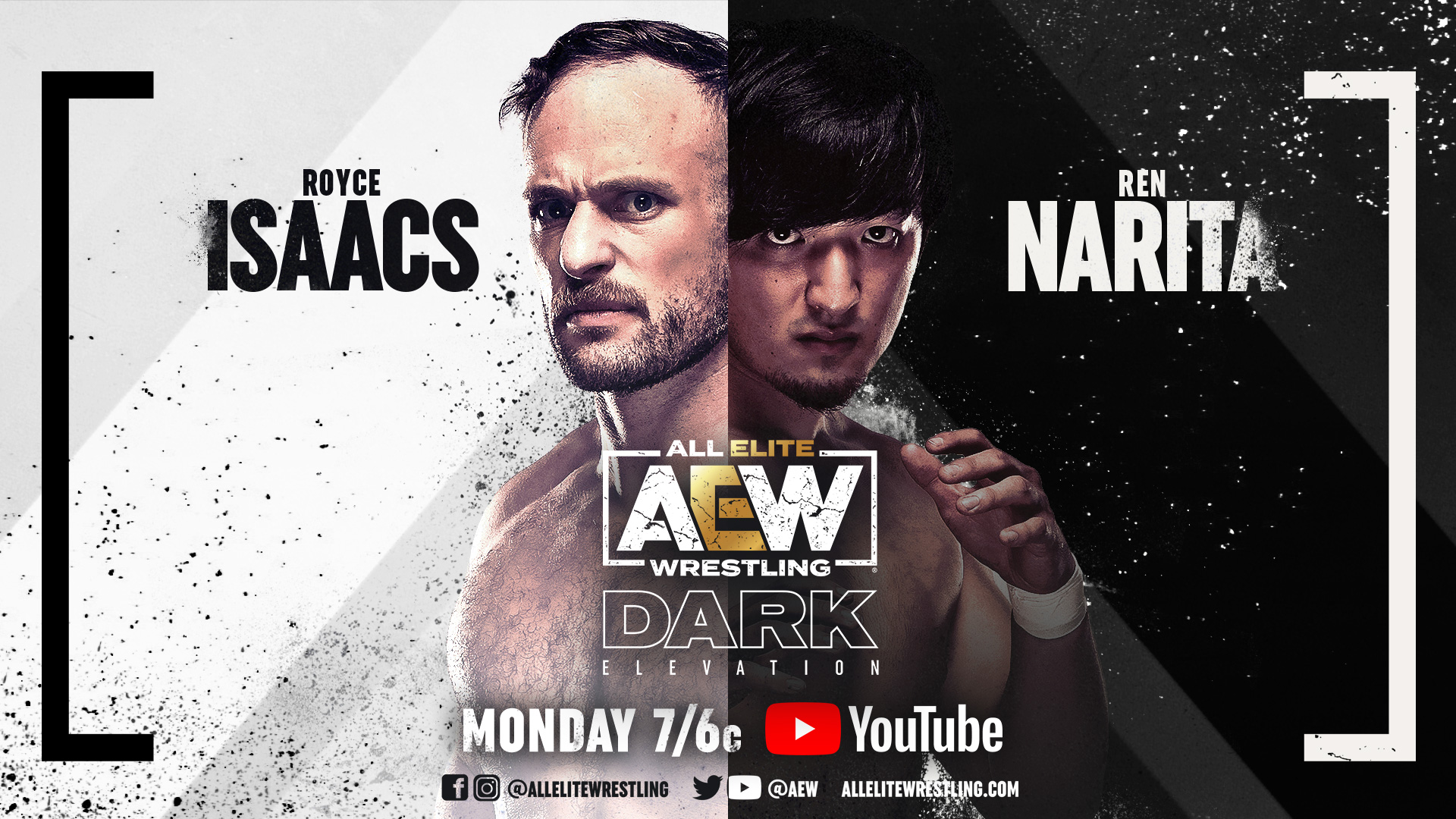 Ren Narita vs. Royce Isaacs
AEW Dark Elevation #11 – Jacksonville, FL – 5.24.2021
This is Isaacs' singles debut, and of course he debuted for New Japan two weeks prior. This is Narita's AEW debut. Interestingly, Isaacs utilized a Scorpion Death Lock, which is fairly similar to the Narita Special. Narita crawled to the ropes fairly easily to break the hold. Isaacs almost had Narita down with a rolling haymaker and a Jackhammer, and was frustrated when Narita got his shoulder up during the pin. Narita wears down Isaaacs in an abdominal stretch and gives him two bridging Northern Lights suplexes to get the pin at 6:05. Nice showing for both guys, especially with commentary being so complimentary towards their work, and them being positioned in the semi-main event. On the off chance Narita does return to AEW, he's got a win under his belt to carry forward. **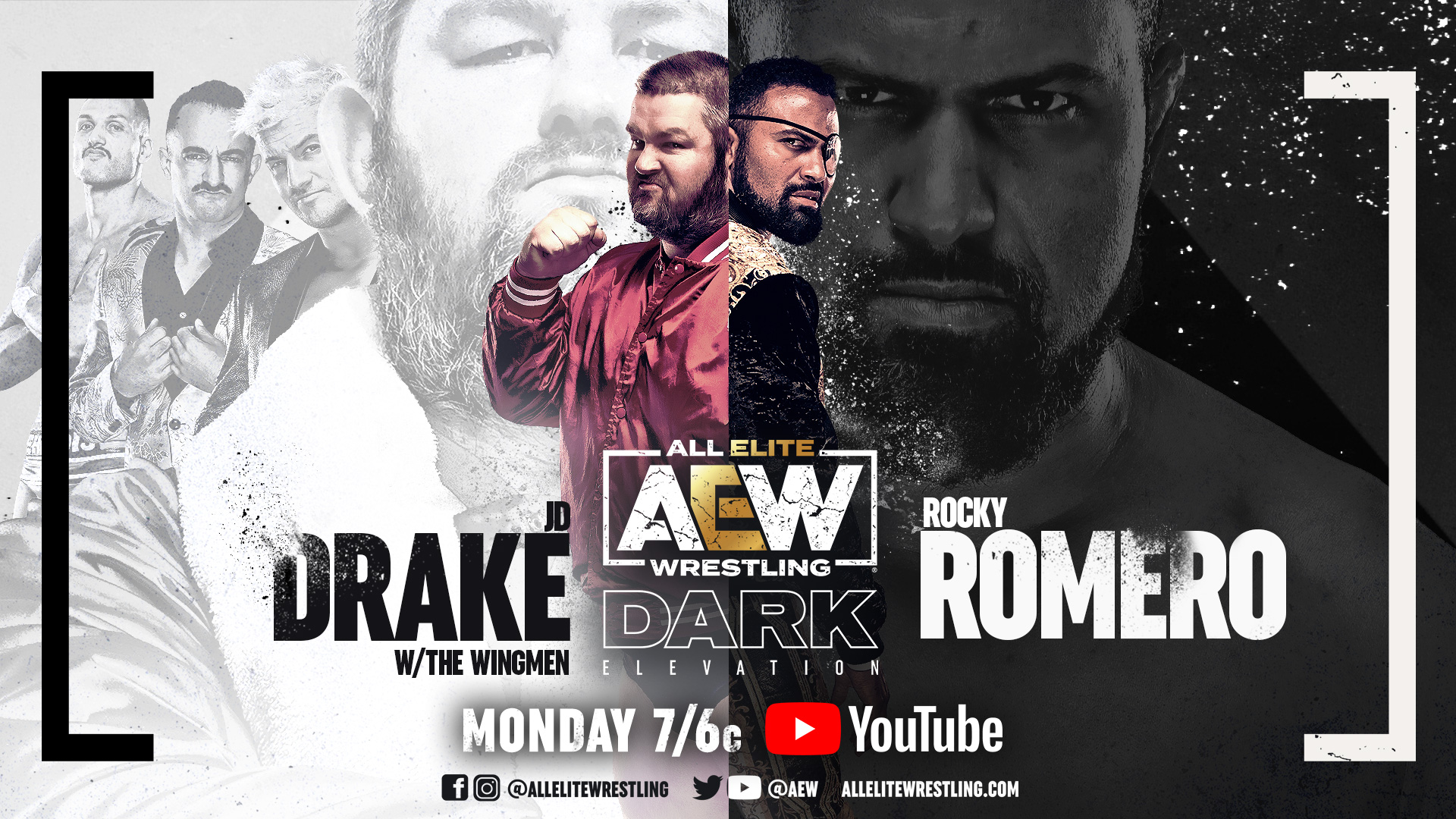 Rocky Romero vs. JD Drake
AEW Dark Elevation #11 – Jacksonville, FL – 5.24.2021
Drake is accompanied by the rest of the Wingmen stable, Peter Avalon, Ryan Nemeth, and Cezar Bononi. As Romero gets the better of Drake, Drake baits him into a position where outside of the ring, he can bounce Romero off the ropes and catch him on the rebound with a clothesline. The Wingmen attack Romero behind the referee's back after Drake gives him an elevated neckbreaker. Romero moves out of the way of a Vader Bomb and drops Drake with a tornado DDT. Romero's arm work pays off when Drake has difficulty with a second neckbreaker. However, when Romero goes for a Shiraui, Drake nails him with a lariat for two. Romero double stomps Drake as he dangles on the second rope, then successfully lands a running Shiranui for two. Drake gives Romero a release suplex and a Shining Wizard for two. Drake misses a moonsault, and Romero Magistral cradles him for the pin at 11:31! Real good match as expected, with Romero's arm work and quickness trumping Drake's size and power. Fortunately the Wingmen interference was kept to a minimum. **¾
The Wingmen swarm Romero after the bell. Best Friends send them packing, and we get the Roppongi Vice reunion with their theme music playing over the PA and Trent and Rocky doing their signature high five. We then get all four Best Friends giving Romero a big hug. You simply love to see it.