3.4.2022
Not a lot of meat on the bone in terms of matches for this week's episode, but that's OK, as there is a lot of stuff to cover going on elsewhere. We start with last Saturday, where Woods defended the Pure Championship in Pittsburgh: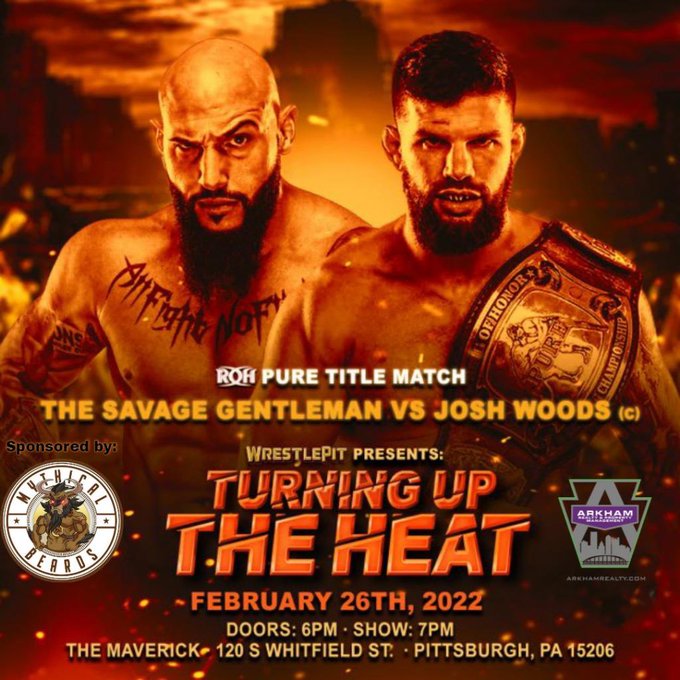 ROH Pure Championship
Josh Woods vs. Victor Benjamin
WrestlePit "Turning Up The Heat" – Pittsburgh, PA – 2.26.2022
Woods has been champion since 9.12.2021 and this is his seventh defense.
*The competitors are to obey the "Code of Honor", shaking one another's hand before and after the match.
*Each wrestler has 3 rope breaks to stop submission holds and pinfalls. After a wrestler has used all 3 of their rope breaks, submission and pin attempts on or under the ropes by the opponent are considered legal.
*Closed-fist punches to the face are not permitted. Punches to other parts of the body are permitted, excluding low blows. The first use of a closed fist results in a warning, a second will be a disqualification.
*This match has a 60 minute time limit. If the match goes past the time limit, three judges will determine the outcome.
*Any wrestler who interferes will be automatically terminated from the roster.
The match is very even to begin with, with each of them able to reverse each other's hip toss attempts, and keeping each other down in headlock takeovers. Benjamin clobbered Woods in the back of the head with a forearm strike and applied a rear-naked choke, and Woods spent his first rope break to escape. Benjamin does more damage to the neck, and when he goes for the rear-naked choke again, Woods water pumps Benjamin's arm repeatedly over his shoulder. Woods applied a hammerlock around the top ring post, which counted as Benjamin's first rope break. Benjamin uses his second rope break to escape a modified arm scissors. Benjamin takes out Woods with a tornado gamengiri. They trade German suplexes until Woods knees Benjamin in the face and gives him a double underhook suplex. Benjamin uses a closed fist to stop Woods on the top rope, and he is issued a warning because of it. It did, however, enable Benjamin to pull off a superplex. Woods slides out of a suplex attempt. They kick each other in the head at the same time, knocking each other out. Woods however lands on top of Benjamin, pinning him at 16:30. This was a mixed bag, as the wrestling and story were both good, but the ending was a bit too cute for me and the crowd never got to a level of care above respectful. There's been several instances where I wonder how much better a match may be in front of a different audience, and this falls into that category. **¾
I thought perhaps when Rok-C lost the Women's championship we would no longer see it featured in New Texas Pro. I was wrong, as Deonna returned to New Texas Pro for the first time in nearly a year to defend the title: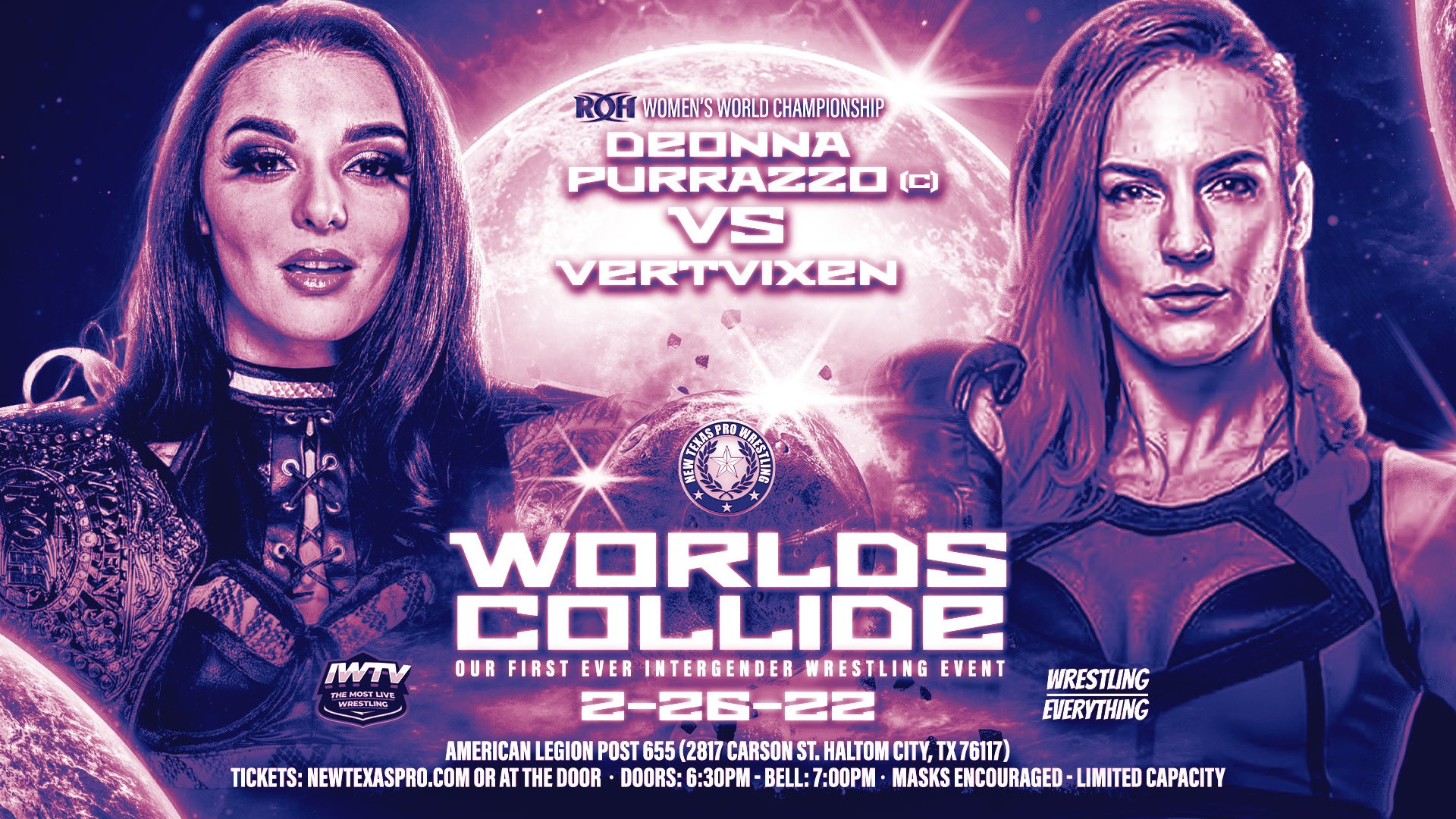 ROH Women's World Championship
Deonna Purrazzo vs. Vertvixen
New Texas Pro Wrestling "Worlds Collide" – Haltom City, TX – 2.26.2022
Purrazzo has been champion since 1.13.2022 and this is her third defense. Vertvixen almost pins the champion after kicking out her legs and giving her a low Complete Shot. Purrazzo turns things in her favor by baiting Vertvixen to the floor and sending her shoulder first into the ring post. Although Vertvixen gets in a corner attack, Purtazzo is able to use a leg sweep to pull her into a Fujiwara armbar, and pump kick Vertvixen when she escapes. Vertvixen slides into the corner from an Irish whip and kicks Purrazzo in the side of the head. Vertvixen then hits a running kick to the back of her head for two. Purrazzo pulls Vertvixen back down into the Fujiwara armbar. She then gets Vertvixen in a double shoulder clutch until Vertvixen submits at 9:04. This smoked Deonna's two previous defenses.I had never heard of Vertvixen before so I had no idea what to expect, but she was a great opponent for Purrazzo. They also kept a really good pace for the entirety of the match which helped raise the excitement. People were very much into each instance of Deonna going for or getting the armbar applied. ***
The March 1st episode of DEFY NOW featured Gresham's ROH title match from the previous month: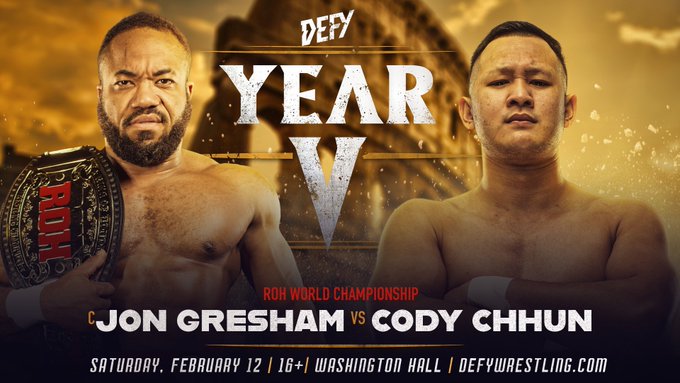 ROH World Championship
Jonathan Gresham vs. Cody Chhun
DEFY Wrestling "5th Anniversary Show" – Seattle, WA – 2.12.2022
Gresham has been champion since 12.11.2021 and this is his eighth defense. Gresham accidentally swipes Chhun in the face with both of his hands when he breaks a lock-up in the corner, immediately apologizing and shaking Chhun's hand. After hammerlocking Chhun's left arm on the mat with this legs, he slams each of Chhun's knees into the canvas. Chhun escapes the champ's grasp when he goes for his other arm. Chhun controls Gresham by his left arm in a wristlock, with Gresham growing more frustrated as each attempt at an escape fails. He does however get Chhun in a modified figure four leg lock, which Chhun only is able to escape using the ropes. Gresham avoids an Irish whip attempt and armdrags Chhun across the ring. Gresham kicks Chhun's arm after a neckmare and takes him down with an armdrag. He attacks Chhun's left arm on the canvas and twists on his right ankle. Chhun reverses an armdrag with a pair of his own. He twists and manipulates Gresham's left arm himself, giving the champ a taste of his own medicine. They duck each other's chops in the corners repeatedly. Finally, Gresham and Chhun go for an armdrag at the same time, and the pain results in both of them failing and falling to the mat. A sunset flip and reversal sequence ends with Gresham's thigh cracking Chhun in the side of his head. Gresham allows for Chhun to get to his feet before pursuing him. A fight for a hip toss ends with both of them flipping over the top rope and to the floor, but with both of them landing on their feet. Another hip toss battle back in the ring ends with Gresham once again swiping Chhun in the face. Chhun decides he's had enough and blasts Gresham with a forearm strike to the face. This leads to a forearm exchange and Chhun slapping Gresham so hard in the face it gets him a two count. As the pace picks up, Chhun hip tosses Gresham. Gresham pulls Chhun down in a headscissors and holds onto his legs, pinning Chhun at 20:18. After watching this match, and all of the New Japan STRONG episodes that took place in this venue, I can say this crowd is one of the best in wrestling today. They were happy to take the ride Gresham and Chhun took them on, and their buy-in made the little moments more intense and visceral. I do think you could've shaved off some minutes and had a more concise package, but nevertheless, I came away from this match with a high opinion of Chhun and interest in the DEFY product, so mission accomplished. ***¾  
February 26th featured a historic title match for ROH, as it was the first time the title was defended in Denmark:
ROH World Championship
Jonathan Gresham vs. Emeritus
BODYSLAM! "Scandi Foundation" – Kopenhagen, Denmark – 2.26.2022
Gresham has been champion since 12.11.2021 and this is his twelfth defense. After a very equal opening, Gresham grows frustrated. After swatting away a handshake, Gresham stomps on Emeritus' hand and dropkicks him to the floor. Gresham stretches out Emeritus' arm repeatedly armdrags him into the canvas. Gresham scoop slams Emeritus while maintaining control of the arm, but has to let go as Emeritus lands in the ropes. Emeritus is able to catch Gresham with a DDT from the apron to the inside of the ring. Emeritus takes Gresham down with a Diamond Dust. He also holds onto a cravate, even when Gresham tries to bodyslam his way free. Emeritus then controls Gresham on the mat in a side headlock. Gresham uses an atomic drop to escape and knocks down Emeritus with a standing dropkick. When Gresham tries a suplex, the both tumble over the top rope and to the floor. In the ring, Emeritus rattles Gresham with various forearm strikes and almost has him knocked out with a tornado DDT to the floor. Emeritus takes him out with a springboard clothesline and the Ghostbuster (an Implant) for the pin. However, Gresham's foot is under the rope, and the referee doesn't notice until after the count. Gresham rolls up Emeritus in a few pinning combinations. Emeritus counters one with a Magistral cradle, but Gresham rolls through that into a European Clutch for two. Gresham locks his damaged arm in the Octopus Stretch and pummels Emeritus until the referee stops the match at 27:22. Good wrestling, good crowd, way too long. This lost my interest a few times until finally picking things up in the final five minutes. There's so much fat that could have been trimmed to make this a more compact, satisfying match. It was close to four months before we got to see this, and it wasn't really worth the wait. **½
On the March 2nd episode of AEW Dynamite, Tony Khan announced he had purchased Ring of Honor. What is in store for Ring of Honor's future is to be determined, but to celebrate the occasion, an approximation of the main event of the first ROH show was presented immediately following the announcement: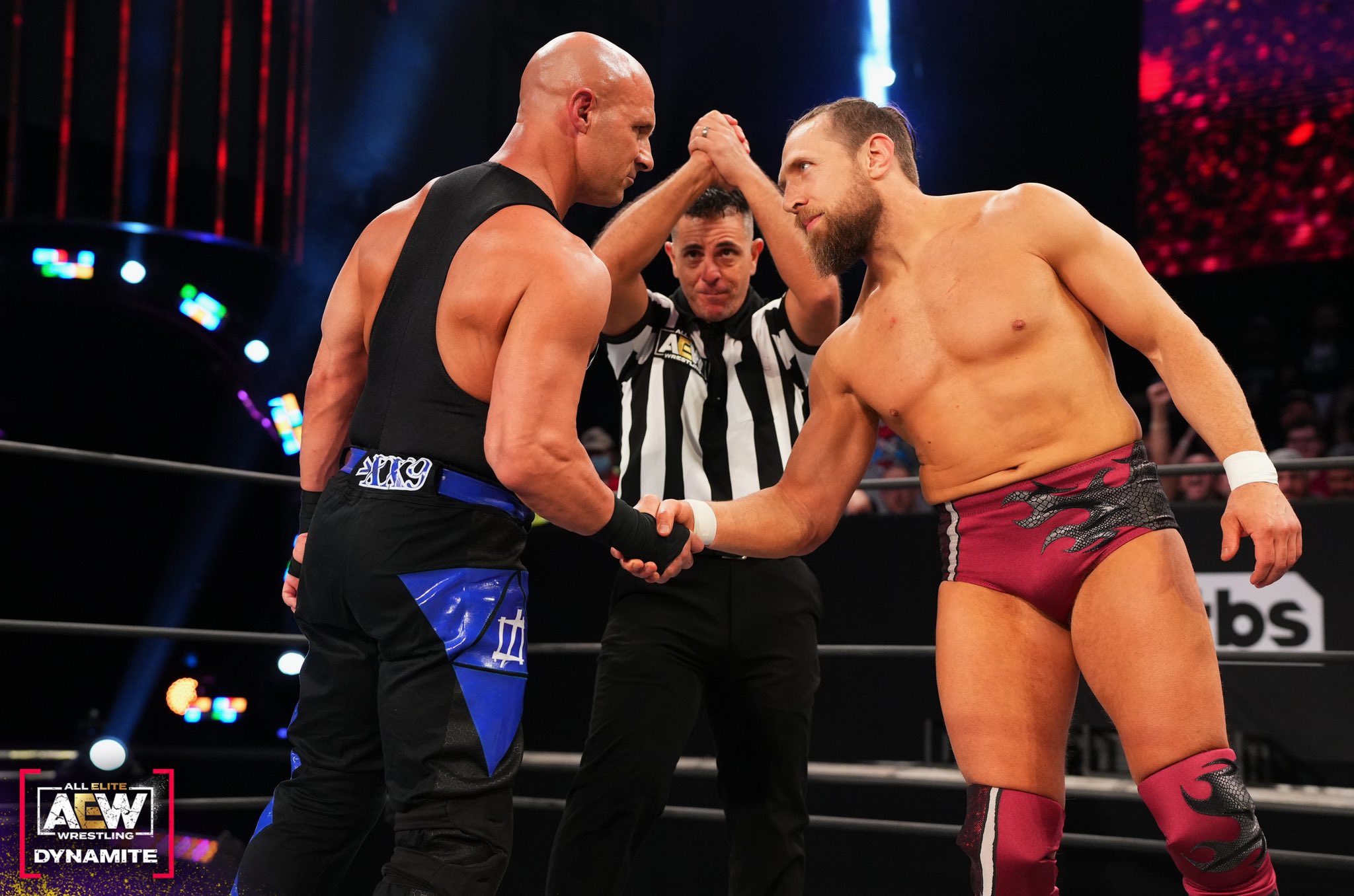 Bryan Danielson vs. Christopher Daniels
AEW Dynamite #126 – Jacksonville, FL – 3.2.2022
Of course, the actual first ROH main event was a three way dance with Danielson, Daniels, and Low Ki, but I think this was a perfectly acceptable compromise. Not counting the Jericho Cruise, this is Daniels' first AEW match since May 21, 2021. Long-time ROH referee Paul Turner serves as the official for the bout, and the Code of Honor is observed before the match begins. Daniels surprisingly got the upper hand with an Arabian Press to the floor. However, when he tried a crossbody back inside of the ring, Danielson caught him on the way down with a kick to the stomach. As Danielson comes off the ropes, Daniels scoops him up into a Blue Thunder Bomb. Daniels palm strikes Danielson on the top turnbuckle and brings him down with an Iconoclasm. Danielson comes back with a German suplex and corner dropkick. Danielson rolls through a crossbody from Daniels, but Daniels escapes an armbreaker attempt. They trade pin attempts, ending with a strike from Daniels. Danielson forearm strikes Daniels, Daniels peppers Danielson with jabs, and Danielson gets two with a rolling forearm smash. Daniels stopped Danielson on the top turnbuckle once again. Danielson flipped Daniels to the mat when Daniels tried a moonsault. Daniels caught Danielson coming down with a uanage. He went for the BME, but Danielson caught him in a triangle sleeper. Danielson elbows Daniels on the top of his head until Paul Turner calls for the bell at 11:17. With Danielson heading into a big PPV match on Sunday, this was more competitive than I expected. Daniels playing the hits was totally acceptable, and the crowd was with them the whole time. A nice touch was Danielson shaking Daniels' hand after the match as Daniels still lay on the mat, and Danielson stomping his head in to turn the crowd against him. ***½
This week's episode is a Hall of Fame Special, highlighting all five inductees into the inaugural Hall of Fame class. Ian Riccaboni and ROH Ambassador Cary Silkin discuss all of the nominees and treat us to some highlights. Below are the list of what is highlighted for each nominee:
The Briscoes
*The Briscoes first tag team title win at "Main Event Spectacles" over Special K
*Main Eventing the "Man Up!" PPV against Kevin Steen and El Generico in the first Ladder War
*Jay Briscoe winning the ROH World Championship at "Supercard of Honor VII"
*The Briscoes record breaking 12th Tag Team Championship victory at "Final Battle 2021"
Bryan Danielson
*Winning the ROH World Championship at "Glory By Honor IV"
*Defending the ROH World Championship against Roderick Strong at the first "Supercard of Honor"
*Unifying the ROH World and Pure Championships at "Unified"
*Defeating Takeshi Morishima in a Fight Without Honor at "Final Battle 2008"
*Danielson's final ROH match at "Glory By Honor VIII" where he defeated Nigel McGuinness in the main event.
Samoa Joe
*Winning the ROH World Championship at "Night of Champions"
*Going to a draw with CM Punk for the second time in four months at "Joe vs. Punk II"
*Winning the Pure Championship at "Manhattan Mayhem"
*Joe vs. Homicide at "Fifth Year Festival: Finale", Joe's final ROH match at the time.
*Joe's surprise return at the 13th Anniversary Show
*Joe's final match in June 2015 where he teamed with AJ Styles ot face Christopher Daniels and Frankie Kazarian
CM Punk
*CM Punk vs. Terry Funk from "Glory By Honor II"
*Winning the ROH World Championship at "Death Before Dishonor III"
*Punk's ROH World Championship defense against James Gibson at "Fate Of An Angel"
*CM Punk's farewell at "Punk: The Final Chapter"
Ian Riccaboni then surprises Cary Silkin with the first ever Hall of Fame Legacy Award, which from now on will be called the Cary Silkin Legacy Award. This was the best moment of the episode by far.