Philadelphia, PA – 10.29.2021
Commentary is provided by Ian Riccaboni & Caprice Coleman.
Rok-C made her third Women's title defense on October 22nd: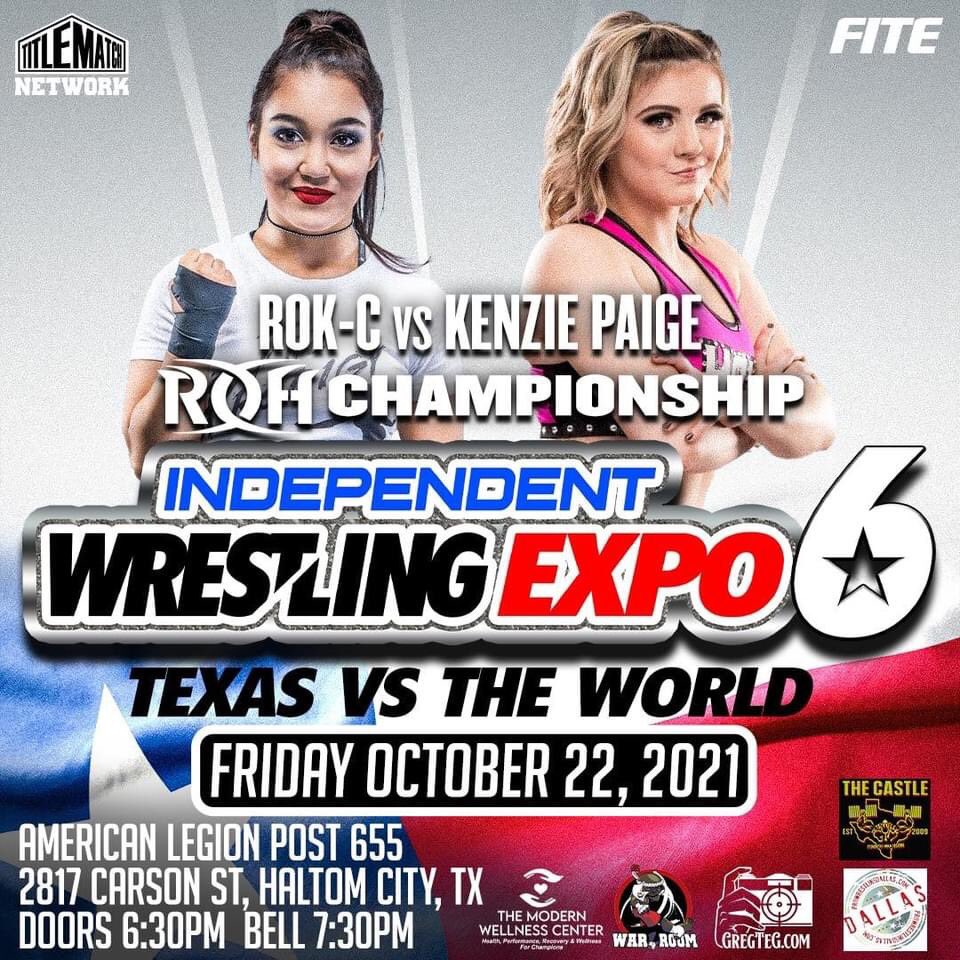 ROH Women's World Championship
Rok-C vs. Kenzie Paige
Independent Wrestling Expo 6 "Texas vs. The World" – Haltom City, TX – 10.22.2021
Ella Envy is in Paige's corner. A lot of pinning combinations start off the match.Paige gives Rok-C a disrespectful slap, and a now angry Rok-C goes after Paige's left arm. Envy however drags Rok-C out to the floor and Paige sends her face first into the ring post. Paige keeps the upper hand back inside the ring, but during a forearm strike exchange, Paige and Rok-C end up landing stereo headbutts. Rok-C takes Paige down with a Thesz Press and gets two with Rok Knees. She then locks on a crossface, but Paige escapes and delivers a superkick for two. Envy passes the championship to Paige to use as a weapon, but the referee catches her and takes it away. Rok-C prawn holds her back into a crossface and Paige taps out at 10:28. Solid but unspectacular match – Rok-C played the hits, the crowd ate it up, and her defense record grew by one. **½
Rok-C then made her fourth Women's title defense at her home promotion, Reality of Wrestling, on October 23rd: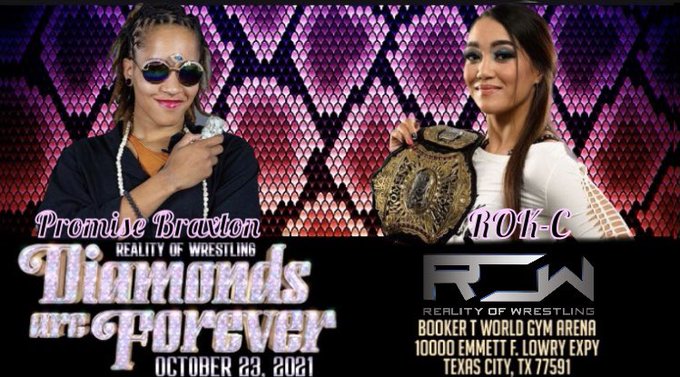 ROH Women's World Championship
Rok-C vs. Promise Braxton
Reality of Wrestling "Diamonds Are Forever" – Texas City, TX – 10.23.2021
Rok-C goes for a crossface early on. Braxton then escapes a waistlock by driving Rok-C's throat into the top rope, and then chokes her on the middle rope. Rok-C fights back with a tilt-a-whirl backbreaker. She manages to hit the Rok Knees for two. Braxton gets her own two count with a German suplex. Rok-C avoids a corner attack and gives Braxton two neckbreakers. She follows that up with a running knee to the face for two. Braxton sends Rok-C back first into the guardrails and quickly lands a suicide dive after the face. In the ring, she swings Rok-C out into the Broken Promise for a very close nearfall. She looks for it again, and this time Rok-C spikes her with a crucifix driver. She then locks the crossface back in. Rok-C pulls back to keep Braxton from reaching the ropes, and Braxton taps out at 12:47. The crowd was into this, and the last few minutes were especially exciting. I had not seen Braxton before this match but she was more than formidable against the champion. I think it's nice that Rok-C got to defend the ROH women's title in her home promotion too. ***
The October 26th episode of Week By Week featured a Pure Rules encounter from "Wrestle Carnival" event earlier this month: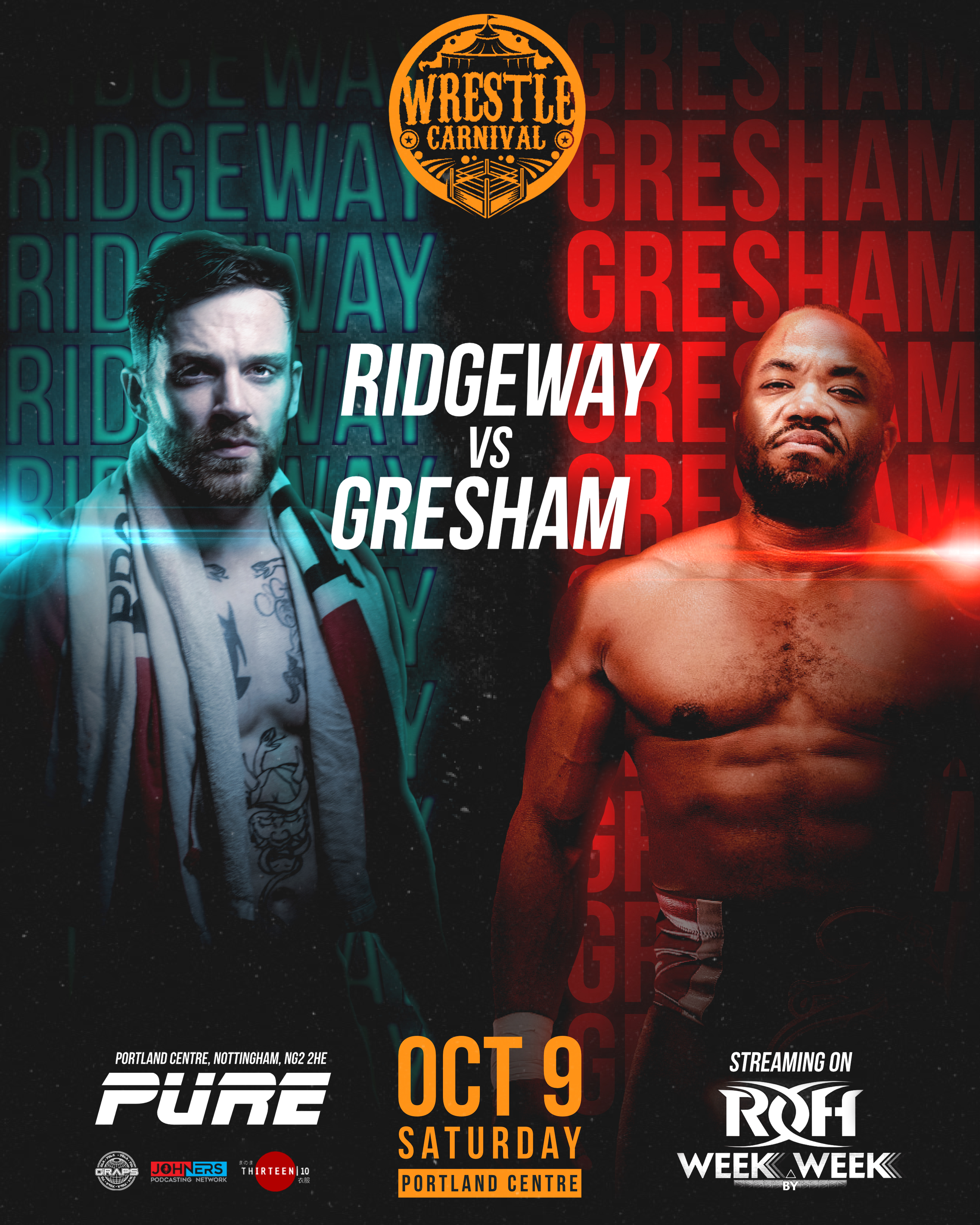 Pure Rules Match
Jonathan Gresham vs. Chris Ridgeway
Wrestle Carnival "PURE" – Nottingham, England – 10.9.2021
This is Ridgeway's "ROH debut", and lately he has been teaming with fellow ROH roster member Mark Haskins.
The Pure Rules are as follows:
*The competitors are to obey the "Code of Honor", shaking one another's hand before and after the match.
*Each wrestler has 3 rope breaks to stop submission holds and pinfalls. After a wrestler has used all 3 of their rope breaks, submission and pin attempts on or under the ropes by the opponent are considered legal.
*Closed-fist punches to the face are not permitted. Punches to other parts of the body are permitted, excluding low blows. The first use of a closed fist results in a warning, a second will be a disqualification.
*Unlike the ROH Pure Rules' matches which typically have a 15 minute time limit, this match has a 60 minute time limit. If the match goes past the time limit, three judges will determine the outcome.
*Any wrestler who interferes will be automatically terminated from the roster.
Ridgeway's strategy was to go after Gresham's neck and mid-section, while Gresham focused his attack on Ridgeway's left arm. Gresham fell to the canvas after taking a shot to the stomach. As he was coming back into the ring, Ridgeway gave Gresham a dragonscrew leg whip, and pivoted his strategy to attacking Gresham's left leg as well. Gresham used his first rope break to escape Ridgeway's sharpshooter crossface. He is forced to use his second rope break shortly after thanks to a heel hook from Ridgeway. Gresham forces Ridgeway to use his first rope break when going for an Octopus Stretch. Gresham would use his third and final rope break to escape an ankle lock from Ridgeway. A series of reversals sees Gresham almost pin Ridgeway twice. Gresham pulls Ridgeway to the floor when he gets him in an ankle lock. Ridgeway does not break since he does not have to and grapevines Gresham's leg on the floor. Gresham taps out but it does not matter. Ridgeway keeps the hold applied to do further damage before getting him back in the ring, and in the process, both men are counted out at 26:19. Gresham then offers Ridgeway a spot in the Foundation. While I think Ridgeway proved he fits in with the Foundation, with nobody from the U.K. coming over to ROH in a year and half, will his joining ever result in anything? This match provided really great wrestling and a coherent story, but a double count out can't help but make the 26 proceeding minutes feel inconsequential. Mileage may vary based on how you digest the finish. ***
The interpromotional train kept rolling on the October 27th episode of Women's Division Wednesday: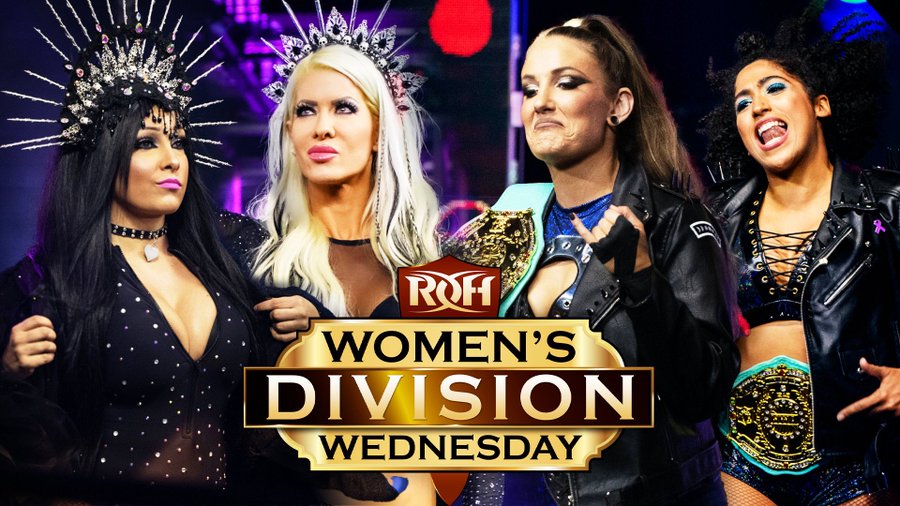 NWA World Women's Tag Team Championship
The Hex (Allysin Kay & Marti Belle) vs. The Allure (Angelina Love & Mandy Leon)
The Hex have been champions since 8.28.2021 and this is their first defense. The Hex and The Allure got into an altercation on the October 6th episode of Women's Division Wednesday which led to this match. Kay controls Love to start, doing damage to her arm and neck. It's during some double team offense when the Allure is able to get Belle in their corner so they can wear her down. Referee Joe Mandak even misses a tag to Kay in the process, and while Kay argues, Belle is forcefully sent back first into the barricades. Love also attacks Kay on the outside, and when the Allure try to Irish whip Belle and Kay into one another, the champions reverse and Love and Leon crash into one another. In the ring, Belle drops Leon with a Stroke and finally tags Kay. Belle however has to save Kay from a grounded headscissors. Leon is disposed of, and Kay and Belle hit "Hex Marks The Spot", a knee strike and Dominator combo, on Love for the pin at 11:19. It's nice to see a match of immediate consequence on this show, and the first time in a very long time (maybe ever in ROH?) where two established women's teams faced each other. The match itself was also good, with a simple to follow story in the Allure going after Belle's taped up shoulder and Kay picking up the slack in order for their team to remain champions. **½
Now onto this week's episode! Quinn McKay draws the names for tonight's Wildcard Trick or Treat episode. The hosting duties are then turned over to Delirious as Quinn has a match to wrestle.
Rok-C & Quinn McKay vs. Miranda Alize & Max The Impaler
Maria Kanellis-Bennett is on commentary and Amy Rose is in Max's corner. Alize attacked Rok-C after her championship ceremony, and McKay checked on her afterwards. Tensions are high between Rok-C and Alize at the beginning. McKay is thrown down to the mat by her hair as we go to a commercial break. During the break, Rok-C hit Alize with Kneecolepsy, but Alize has Rok-C's arms stretched out behind her back as we return. Rok-C escapes and tags McKay who takes down Alize with a dropkick. Alize takes out Rok-C with an arm jam and baseball slide before attempting a tag to Max. McKay stops her and lands a bodyslam for two. Alize bites McKay and drags her over to Max, who Amy allows to enter the match. Max ends up slamming Rok-C onto McKay and walks them around before dumping them both with a double back suplex. Max drops McKay with the Wasteland. Alize tags in so she can pin McKay at 6:37. Rok-C and McKay didn't get a chance to do a lot, but the match did a very good job in establishing Alize and Max's characters, which is definitely valuable. I probably will not tire of seeing Max destroy people. **½
Wildcard Trick or Treat Halloween Four-Corner Survival Tag Team Match
Demonic Flamita & O'Shay Edwards vs. Silas Young & Rey Horus vs. The World Famous CB & EC3 vs. Flip Gordon & Matt Taven
This is under Lucha rules, meaning exiting the ring counts the same as making a tag. Gordon still thinks it is 2018, and as an amusing touch, all his stats/facts shown during his entrance are from 2018. EC3 tried to remind Gordon of their history together when Gordon shook his hand, but it did not register. We even had a brief reunion between Flamita and Horus against Taven. Flamita accidentally superkicks Edwards as he holds onto Taven. A series of dives wiped out just about everyone ringside. Silas Young had been lurking ringside, and after Horus landed a 450 splash on CB, Young tossed Horus out and pinned CB at 11:29. Fun match, and maybe we'll see more from Young and Horus since they seemed to have built some animosity at "Glory By Honor" and Young stole the pin from him. ***
ROH World Six Man Tag Team Championship
Shane Taylor Promotions (Shane Taylor & S.O.S. (Kaun & Moses)) vs. Danhausen, PCO & Sledge
Shane Taylor Promotions have been champions since 2.19.2021 and this is their seventh defense. Mark Briscoe dressed as Mario is on commentary for the bout, and O'Shay Edwards is in STP's corner. Danhausen demands Taylor get in the ring with him after he is unsuccessful with Kaun. Taylor nails him with a haymaker and in comes Sledge. Taylor also takes him down with a right hand. Sledge shuts him down with a slingshot senton. Sledge gets mad when PCO tags himself in. PCO malfunctions when Sledge shoves him, and PCO knocks down Sledge and all of STP with double axe handles. PCO rips off a top turnbuckle before sending all of STOP into it face first. PCO however then does a senton to the floor onto nobody. Sledge unwisely gets into Taylor's face before face wash kicking Kaun. Taylor rolls Sledge into a knee strike to the face. Danhausen lands a knee of his own to Taylor and sends him to the corner with a headscissors. He takes down Taylor with a pump kick, and the legal man Kaun surprises Danhausen with a Gut Buster. PCO malfunctions again and dives onto Sledge who was fighting with Moses on the floor. This leaves Danhausen alone with STP. Moses and Kaun drop him with their tandem elevated DDT, and Taylor follows that up with the Marcus Garvey Driver to get the pin at 8:33. This was a very fitting trio to challenge for the titles given the episode's theme, and not out of the realm of possibility given STP's "accept all comers" approach to defending their titles. Losing this match was also a logical way for the challengers to formally dissolve (more on that in a moment) as there isn't much for them to do that wouldn't end up as stale. It will be interesting to see who will end up unseating STP, if anyone does. **¾
Sledge and PCO fight with each other as the show goes off the air.
NEXT WEEK: Josh Woods makes his first defense of the Pure Championship against LSG, and Bandido defends the World Championship against Alex Zayne!
Overall: Given the unfortunate news regarding Ring of Honor last week, it was nice to have a more frivolous episode than usual. It also featured a wide array of wrestlers who don't get a lot of television time of late which is appreciated. It's hard to call this a must see episode, but it's a fun way to spend 50 minutes for sure.