Port Hueneme, CA – 3.26.2021
Commentary is provided by Kevin Kelly & Alex Koslov.
Team Filthy is in their locker room. Danny Limelight is salty about everyone else in the group but him having a qualifying match, and Tom Lawlor makes a crack about him being in AEW lately and missing out on his shot. Lawlor also makes a wisecrack about Chris Dickinson losing to Ren Narita, which Dickinson doesn't appreciate.
New Japan Cup USA 2021 Qualifying Match
Clark Connors vs. TJP
These two are former tag partners, competing in the 2019 Super Jr. Tag League with each other, and teaming a few times on previous STRONG episodes. Connors immediately Gores TJP at the start, following up with a succession of pin attempts and a pair of Beele tosses. TJP lures Connors to the outside and lays him out with a pescado. TJP attacks Connors' back and left leg back inside the ring. Connors escapes a tornado DDT attempt, but gets dropkicked on the mat by TJP for two. Connors manages to catch TJP with a snap powerslam, which is what TJP originally avoided when he took over with the pescado. Connors wipes out TJP with a Pounce. TJP dropkicks Connors' knees out, but crashes and burns with the Mamba Splash. TJP locks on a grapevine ankle lock, and an agonized Connors makes it to the ropes to escape. TJP tries another leg submission. Connors uses a waistlock takedown to stop him, and locks on the Boston Crab for the submission. TJP escapes and gets on the grapevine ankle lock once again. With Connors unable to escape, he rolls TJP back onto his shoulders to pin TJP at 9:29. It makes sense for the Lion's Break Crown tournament winner to make it into the New Japan Cup USA tournament the following year. These two are awesome opponents, and it's not often we get to see TJP's technical prowess on display. ***
New Japan Cup USA 2021 Qualifying Match
Blake Christian vs. Chris Dickinson
To show you just how far in advance NJPW taped these closed set STRONG shows, Christian signed with WWE on February 13th. Christian's evasiveness and speed serves a problem to the Dirty Daddy until Dickinson dropkicks him out of mid-air when Christian goes for a springboard maneuver. Dickinson attacks Christian's leg and wears him down with chops. Christian flips over a dropkick and backslides Dickinson into a roundhouse kick. Christian is able to score with a tope con hilo, but when he tries a springboard 450 splash in the ring, Dickinson gets his knees up. Christian blocks the Pazuzu Bomb with a sunset flip. Dickinson muscles him up into a powerbomb. Christian flips out of a Death Valley Driver attempt. Dickinson immediately takes him down with a dragonscrew leg whip. Dickinson gives Christian a half-nelson suplex and a Gotch style piledriver for the pin at 8:50. Despite the foregone conclusion, they gave Christian a convincing enough run in this match to make it seem like Dickinson had to put in an effort and beat someone worth a damn. Dickinson wearing down Christian's leg was a simple but effective story too. **¾
Our tournament field is now set. The New Japan Cup USA 2021 tournament begins in two weeks, with Tom Lawlor, Lio Rush, Hikuleo, Fred Rosser, Ren Narita, Brody King, Clark Connors, and Chris Dickinson making up the field. The first round bracket was revealed at the end of the episode: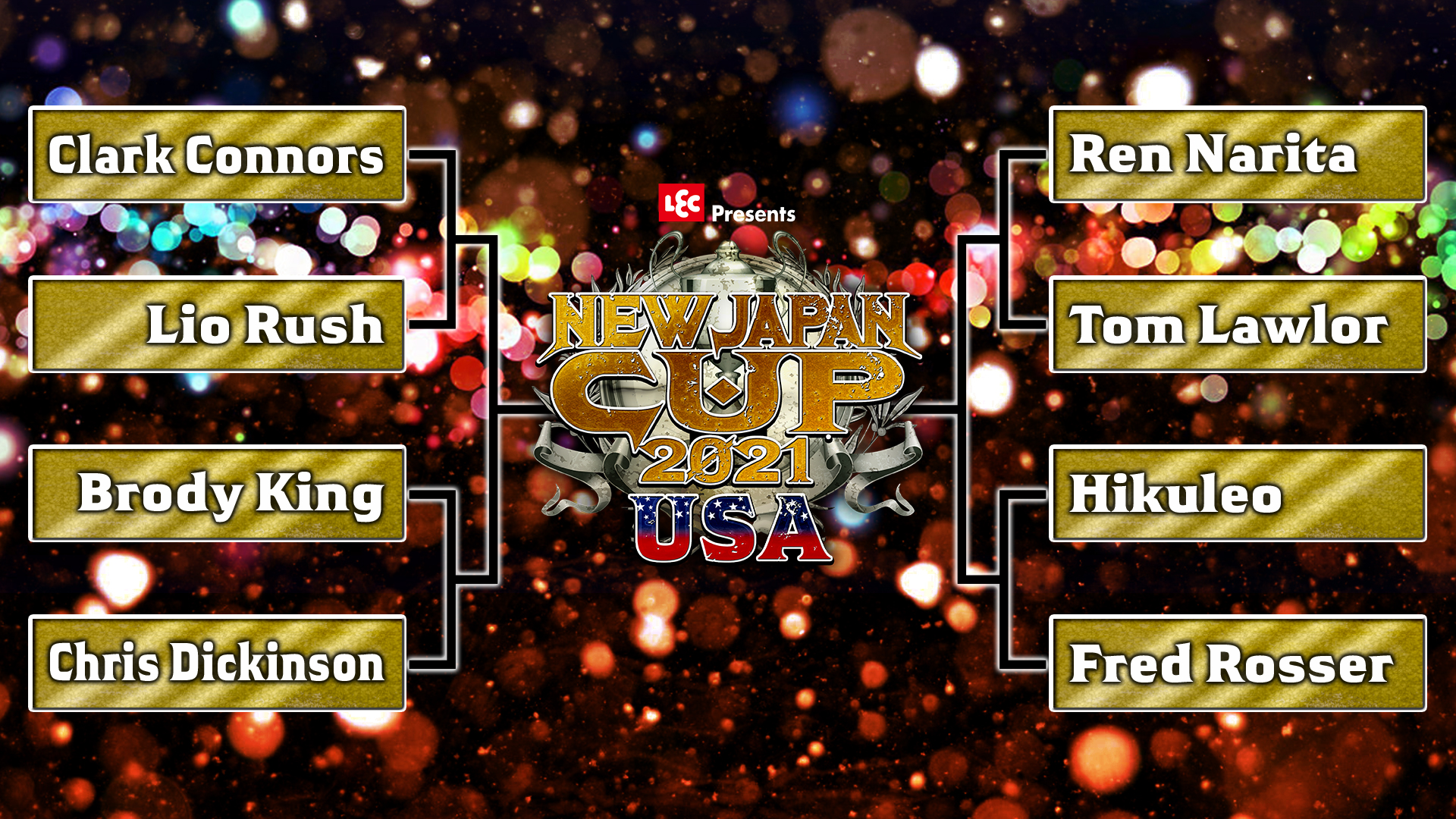 David Finlay & Karl Fredericks vs. Team Filthy (Tom Lawlor & Danny Limelight)
JR Kratos is in Team Filthy's corner. This is Finlay's first STRONG match since December. Limelight is stuck getting beaten down by Fredericks and Finlay. Lawlor pulls Fredericks to the floor. Fredericks gives chase and is caught with a dropkick to the knee and a double stomp from Limelight when he re-enters. Team Filthy takes over, wearing down Fredericks in their corner and attacking his left leg. As Lawlor has Fredericks in an ankle lock, Fredericks rolls forward, sending Lawlor to his corner. Finlay strikes Lawlor and then gets tagged in. Finlay escapes a rear-naked choke from Lawlor and gives him a uranage backbreaker. Fredericks delivers a seated dropkick to Limelight in the corner. Limelight counters Manifest Destiny mid-move with a stunner. Lawlor blind tags himself in and knocks Finlay off of the ring apron. Fredericks lands some head strikes, and Lawlor manages a desperation exploder suplex for two. Limelight superkicks Frdericks into a German suplex from Lawlor for two. Fredericks is able to tag in Finlay after taking down Team Filthy in the corner. Finlay lays out Limelight with a running knee. Lawlor takes out Fredericks with a kneeling tombstone and turns around into Finlay's Prima Nocta. Limelight gives Finlay a Small Package Driver for two. Finlay comes back with Trash Panda for the pin at 17:30. Every single match on this episode had leg work as the story of the match – that is some sloppy shop keeping. Other than that this was pretty good but not great. We saw some promising interactions with Lawlor and Fredericks that made me want to see more of them against each other in the future, but otherwise they just didn't fill the time in an interesting manner. **¾