Port Hueneme, CA – 11.6.2020
Commentary is provided by Kevin Kelly & Alex Koslov.
Fred Rosser vs. Jordan Clearwater
Rosser has Clearwater down with a powerslam and seated splash, but Clearwater turns things in his favor by giving Rosser a neckbreaker on the ring apron. A rubber legged Rosser gets in a few shots. He's also able to escape a slam and land a series of clotheslines. Clearwater tags Rosser with a knee to the chin. Rosser catches Clearwater coming off the ropes with the Gut Check and follows that up with a running boot to the side of the head for the pin at 5:29. The momentum swing to the finish was so rushed I wonder if something went amiss. I like what I've seen out of Clearwater and hope he's able to gain some traction. *¼
Danny Limelight vs. Chase Owens
Limelight scores with a succession of attacks to Owens' head before snapping off a Frankensteiner and dropping him with a Complete Shot. Limelight follows Owens to the floor with a corkscrew crossbody. Owens knee strikes Limelight from the apron when he gets back in the ring and tosses Limelight back first to the floor. Owens further wears down Limelight's back inside the ring. Limelight is able to sidestep a corner attack and come off the top rope with a double knee takedown. Owens kicks out after a superkick to the back of a head and a standing moonsault. Owens is able to catch Limelight with a rope-assisted backbreaker in the corner and hit the Jewel Heist (hammerlock lariat) for two. Limelight kicks out Owens' knee and almost knocks him out with a rolling head kick. Owens kicks out, so he goes for the Symbiote DDT. Owens moves out of the way. After taking down Limelight with a bicycle knee, he hits the Package Piledriver for the pin at 8:25. Even if I think Limelight losing both of his matches since the Lion's Break is stupid, I can at least understand Owens defeating him (unlike that punk Misterioso.) Limelight got to showcase his awesome offense and look formidable as Owens wore down his back, and that's about the best you could ask for in a loss. ***
Jeff Cobb & Rocky Romero vs. JR Kratos & Rust Taylor
This is Kratos' NJPW debut and Taylor's first appearance since the Lion's Break Collision series. This also pays off the falling out between Romero and Taylor that happened during the final episode of that series. Taylor goes after Romero's left arm. Romero uses knee strikes to escape a courting hold and takes him off his feet with a Frankensteiner. Cohh slams Romero onto Taylor twice, and Taylor slips away to tag in Kratos. After some maneuvering, Kratos takes Cobb down with a clothesline. Taylor kicks Romero off the apron and to the floor where he gives Romero a back suplex onto the ring apron. Cobb is worn down as Romero is recovering. By the time Cobb stops Taylor with a belly-to-belly suplex, Romero is recovered and able to make the tag. He gets some revenge on Taylor by doing damage to his left arm, but is shut down with a top wristlock drop. Kratos uses his size to maul Romero. Cobb wipes out Taylor with a spincycle but Kratos shoulder tackles Cobb to the floor. Kratos blocks Romero's shiranui and drops him with Death Valley Michinoku Driver. He muscles Romero up into a wheelbarrow suplex for the pin at 13:20. This was a great debut for Kratos who looked like a monster, and a nice reintroduction for Taylor who portrayed his proclivity for picking apart his opponents. Cobb's trajectory on STRONG has been a bit of a roller coaster. ***¼
On the same day as this episode, KENTA put his IWGP U.S. contendership briefcase on the line in Japan: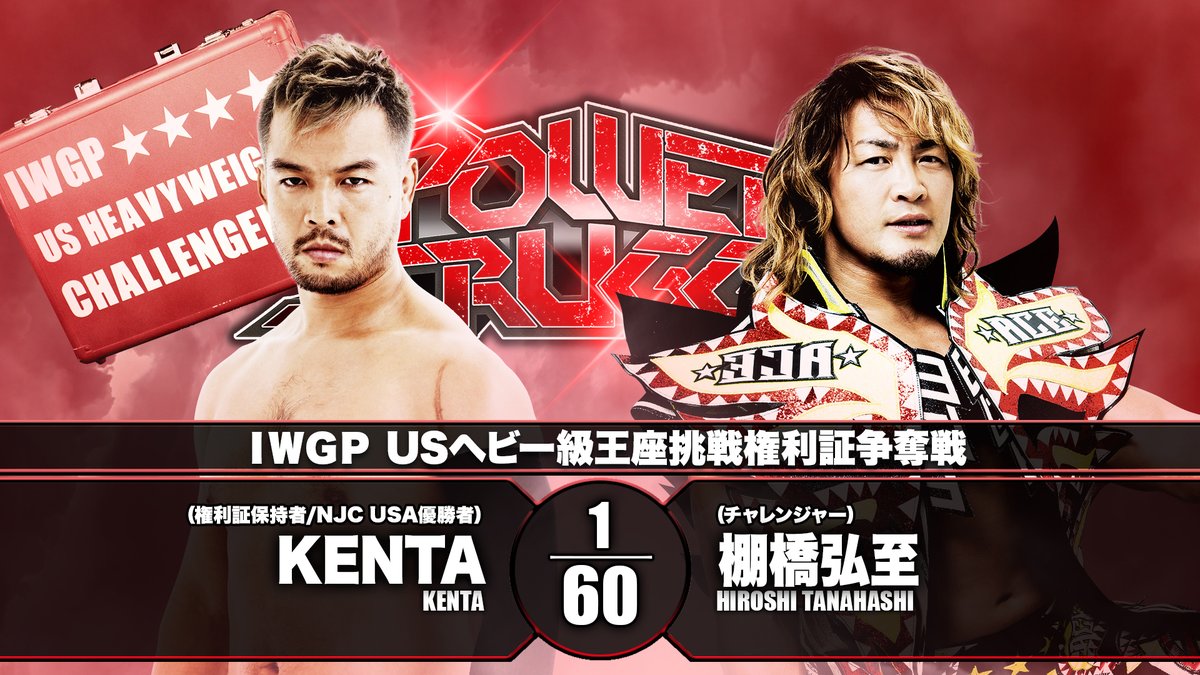 IWGP United States Heavyweight Championship #1 Contendership Briefcase
KENTA vs. Hiroshi Tanahashi
NJPW "Power Struggle 2020" – Osaka, Japan – 11.6.2020
Tanahashi challenged KENTA for this briefcase after defeating him in the G1 Climax tournament last month. With KENTA having defeated Tanahashi in the 2019 G1 Climax, this is a bonafide threematch. En route to this match, KENTA's briefcase got smashed up, and KENTA thinks Tanahashi should buy him a new one. This is KENTA's second defense of the briefcase.
KENTA mocks the Ace by messing with his signature hair and mimicking his air guitar. A dropkick to the floor and a pescado by Tanahashi leads to KENTA nailing Tanashahi in the head with the briefcase to shift things into his favor. KENTA would then focus his offense on Tanahashi's neck. Tanhashi shuts down KENTA with a dragon screw leg whip after catching a running boot in the corner. KENTA schoolboys Tanahashi to counter a Sling Blade. After a boot out of the corner, KENTA snaps Tanahashi's neck on the top rope and nails a diving clothesline off the top turnbuckle for two. Tanahashi gets his foot on the ropes before Game Over can be applied, but he does get caught with a powerslam. KENTA lands on the referee (possibly intentionally) when Tanahashi kicks out of his DDT so he can grab the briefcase. The referee catches them fighting over it and disarms them both, and they knock each other down with stereo clotheslines. After a strike exchange, KENTA drops Tanahashi with the Green Killer DDT. He lands a double stomp off the top turnbuckle for two. KENTA then clobbers Tanahashi with a Busaiku Knee for two. Tanahashi counters the Go 2 Sleep with three Twist and Shouts. KENTA stops Tanahashi coming off the ropes in a G2S position. Tanahashi comes off his shoulders with a Sling Blade and then hits it again for two. High Fly Flow lands. Tanahashi and KENTA convert from a cloverleaf into the Game Over twice, and Tanahashi ends up verbally submitting to the Game Over at 19:57. I appreciate that they got the briefcase shenanigans taken care of in the early going and carried out an engaging match after the face. Tanahashi's counters to the G2S and submissions got the crowd amped up as much as they could with COVID protocols, and ultimately KENTA's neck work paid off with the submission victory. They did a good job keeping the winner up in the air as well, and now we're left to wonder what Tanahashi's Wrestle Kingdom plans will end up being. KENTA, on the other hand, lives to defend his briefcase another day while waiting for Moxley to come out of hiding. ***¾