I thought we'd be done with ROH matches on Dark when this show launched, but I was wrong! Another Eliminator match for the ROH Women's title took place on Dark: Elevation. However, they have now begun using the ROH parlance for Eliminator matches that involve ROH titles, referring to them as Proving Ground matches. I genuinely appreciate that.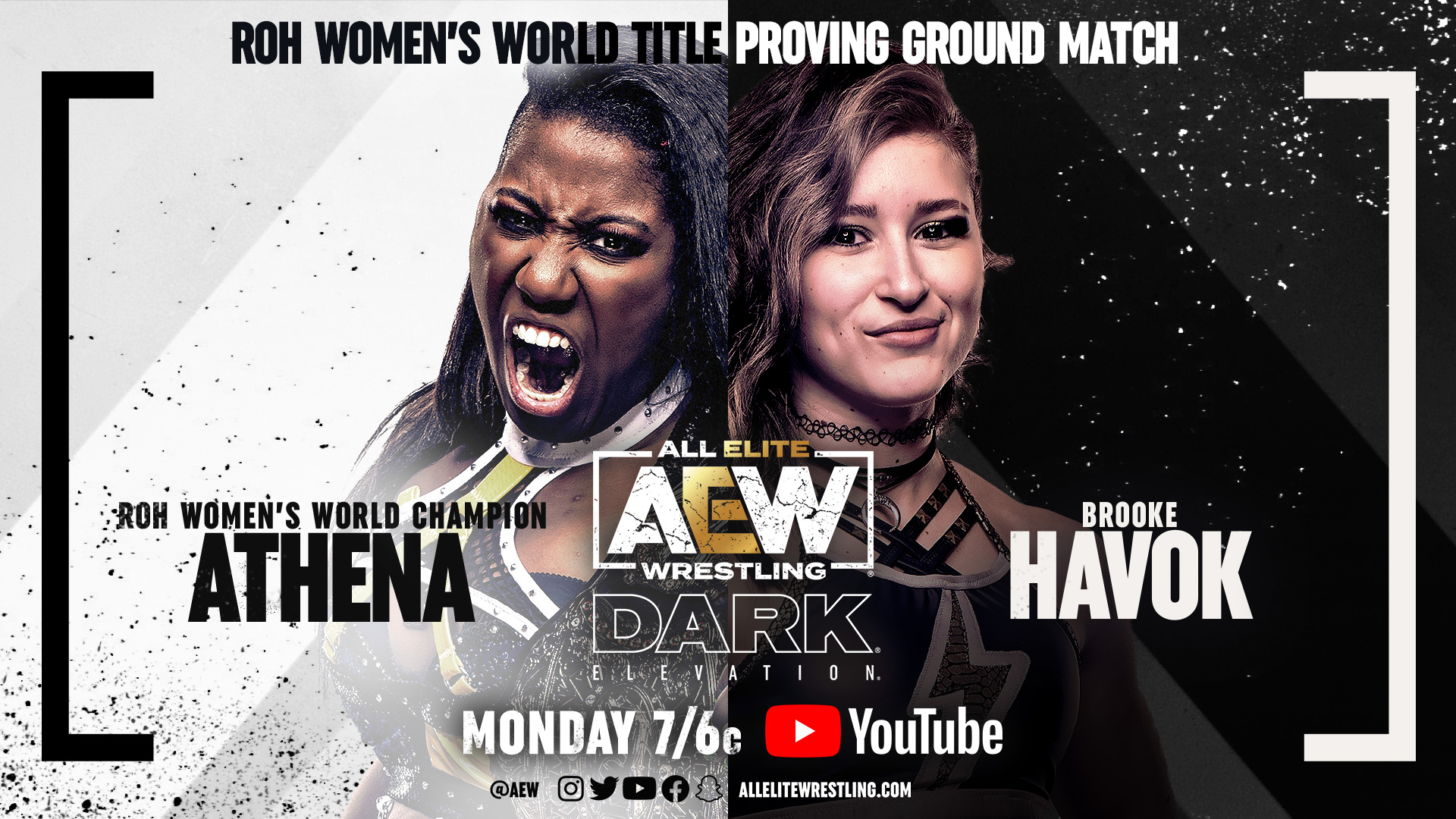 ROH Women's World Championship Proving Ground Match
Athena vs. Brooke Havok
AEW Dark Elevation #105 – San Francisco, CA – 3.6.2023
Havok wisely ducks a strike and takes down the champion with a neckbreaker. She quickly goes for a cover after a dropkick but it hardly registers a one count. Athena grabs Havok by her throat and plants her with spinning chokeslam for two. Athena muscles her up into five consecutive powerbombs, sitting out on the last. She then applies the crossface and Havok taps out at 1:48. Athena clobbers Havok with a forearm smash after the bell and is about to stomp her face into the title belt when Willow Nightingale's music hits. Athena slams Havok's face into the title and runs away before Willow can make it to the ring, then dances away with a big smile on her face. Athena is pretty great.
Orlando, FL – 3.9.2023
Commentary is provided by Ian Riccaboni and Caprice Coleman.
ROH World Television Championship
Samoa Joe vs. Tony Deppen
Joe has been champion since 4.13.2022 and this is his fifth defense. Deppen is also a former TV champion, but he wasn't presented that way in the match. The crowd loved Joe and either didn't know or care about Deppen. Joe manhandled Deppen, but Deppen fought from underneath, showing his resilience. He had a moment of hope when he hit a top rope dropkick and followed it up with a slingshot stunner. He also countered a sleeper attempt from Joe into a prawn hold, but the champion quickly kicked out and mowed down the challenger with a clothesline. The Muscle Buster got Joe the win at 5:27. A nice dominant win for Joe over a former champion is a good way to get him back on track. **
Joe says he runs things in ROH, and that the champion needs challengers. If anybody in the back wants to make their case, now is the time. Enter Mark Briscoe, who says winning the TV title is his destiny and lays out the challenge to Joe. Joe accepts, saying any day he gets in a fist fight with a Briscoe is a good day. I am very much looking forward to that.
Backstage, Dalton Castle is with the Boys. He says they were unprepared when they lost the Six Man Tag Titles to the Embassy. They come back stronger than ever from defeat and are more ready to challenge for those titles than they have ever been. Dalton says the Embassy should stay limber, because they're in for the fight of their life.
Dalton Castle & The Boys (Brandon & Brent) vs. C4 (Cody Chunn & Guillermo Rosas) & Marcus Kross
Castle fights off Kross and Rosas, but the C4 duo are able to turn the match in their favor by taking down Brent with some tandem offense. Brent evaded a double stomp from Kross and took him down with an enzuigiri, bringing Castle back in as the legal man. After suplexing all three opponents, resulting in them rolling to the floor, Castle tossed the Boys onto the opposition They delivered Rosas back to Castle for the Bang-A-Rang, securing the win for their team at 5:29. Nice for the former champs to get some momentum before going back and challenging for the titles again. Kross and C4 made the most out of their time on offense. **¼
Maria Kanellis-Bennett introduces the Kingdom of Matt Taven and Mike Bennett. They've won gold everywhere they've gone, and it's only a matter of time before they win the ROH Tag Titles again. They're still angry at Top Flight for spoiling their return to Ring of Honor and that business between them isn't over. Maria says they will reclaim the tag titles and solidify their legacy in ROH forever.
La Facción Ingobernable (RUSH & Dralistico) vs. The Spanish Announce Project (Angelico & Serpentico)
Jose The Assistant is in LFI's corner and Luther is in the SAP's corner. This is Angelico's ROH debut, but Serpentico actually had a singles match with Cheeseburger in 2018 that went to a No Contest when Bully Ray of all people interfered and beat them both up. This was more or less an extended squash for LFI. RUSH and Angelico squared off a bit at the start, and he saved Serpentico from the Bull's Horns, but it was basically all LFI beating down Serpentico aside from that. Dralistico pinned him with a springboard corkscrew Destroyer at 9:14. They ripped off Serpentico's mask and pummeled Luther after the bell. This was effective, but could've been shorter. *¼
Trish Adora vs. Billie Starkz
If Willow would've been my first signing if I ran ROH, Trish would be two. Her expressions do a great job showing not only her intensity, but that she's all business in the ring. She targeted Starkz's back after slamming her into the edge of the ring, utilizing a Cattle Mutilation. Once Starkz escaped, they engaged in a strike exchange. Starkz nailed her with a roundhouse kick, but Adora came back with Lariat Tubman for the pin at 5:42. Hell yeah, this was fun, and hopefully step one in Adora getting a Women's title match down the line. **¼
Christopher Daniels tells Lexy Nair one of his proudest achievements in ROH was winning the tag titles. He'd love to team with Frankie Kazarian and go for the titles again, but circumstances prevent that from happening. Fortunately, he's had success with several tag team partners in ROH, and decided to call somebody else he won the tag titles with. Matt Sydal enters, telling Daniels excitedly that he is ready to go after the tag titles alongside him again. That's a cool way to utilize the two of them.
The Trustbusters (Ari Daivari & Slim J) vs. Jake Crist & Man Scout
"Smart" Mark Sterling is in The Trustbusters' corner. They make short work of Team Jake, with Slim J submitting Man Scout to an STF at 2:48. I guess even The Goon and Freddie Joe Floyd needed a win now and again to maintain some semblance of credibility. After the match, Daivari brags about beating Metalik last week. Metalik runs down and gets beaten by the Busters and Sterling Blake Christian chases them away with a chair. Looks like we got a tag match on the horizon.
ROH Pure Championship
Wheeler Yuta vs. Timothy Thatcher
Yuta has been champion since 12.10.2022 this is his second defense. Thatcher answered Yuta's open challenge made last week. He has the rare distinction of challenging for an ROH title in his debut match. The Pure Rules are as follows:
*The competitors are to obey the "Code of Honor", shaking one another's hand before and after the match.
*Each wrestler has 3 rope breaks to stop submission holds and pinfalls. After a wrestler has used all 3 of their rope breaks, submission and pin attempts on or under the ropes by the opponent are considered legal.
*Closed-fist punches to the face are not permitted. Punches to other parts of the body are permitted, excluding low blows. The first use of a closed fist results in a warning, a second will be a disqualification.
*This match has a 60 minute time limit. If the match goes past the time limit, three judges will determine the outcome. The judges for this match are ROH alumnus and former champions Christopher Daniels and BJ Whitmer, and Colt Cabana.
*Any wrestler who interferes will be levied a hefty fine.
An early Fujiwara armbar results in Yuta spending his first rope break quickly. Thatcher slams Yuta's upturned hand and wrist into the mat and drops an elbow across his sternum twice. Yuta puts Thatcher in an Octopus Lock. Thatcher stumbles into the ropes, using his first rope break to escape. Yuta attacks Thatcher's left arm, taking him down with a divorce court and dropping a senton onto the shoulder after the fact. Yuta even snuck in an ear bite out of the referee's sight. Thatcher uses his right arm to throw lifters, but it does not break Yuta's stride. A belly-to-belly suplex does the trick, however. Yuta lowers his hips to avoid an underhook suplex. He applies a hammerlock crossface, and Thatcher uses his second rope break to escape. Thatcher takes Yuta to the corner with uppercuts. Yuta is caught using a closed-fist to knock Thatcher away, but the risk allows him to erase Thatcher's rope breaks, as Thatcher puts his foot on the ropes to kick out of the Pain Thriller. Thatcher surprises Yuta with a key lock after taking a German suplex, and Yuta scrambles to use his second rope to free himself. After a double underhook suplex, Thatcher knees Yuta in the kidneys. These knee strikes push Yuta into the ropes, and while Thatcher has to back off, it forces Yuta to use his third and final rope break. Yuta gets in some strikes, but an open hand shot from Thatcher knocks down the champion. Yuta rolls to the floor. Thatcher tries to go after him, but referee Mikee Posey stops him. Thatcher gets Posey out of the way, but from the floor, Yuta is able to crack Thatcher with a closed fist, which would have resulted in a DQ title loss had Posey seen it. Yuta then legally puts Thatcher in a hammerlock neck crank in the ropes until Thatcher submits at 12:38. This was a great example of how you can incorporate AEW stories into ROH. Slowly, Yuta and the BCC have allowed their actions to become less Pure over time, and Yuta throwing an illegal closed fist to win the match is a perfect example of this change. You don't need to know that to enjoy the self-contained story of this match, but if you do, that enjoyment can be enhanced. The story told by Yuta and Thatcher was engaging due to their intensity and sudden momentum shifts, on top of the great wrestling. I really enjoyed this. ***¾
Yuta acknowledges the mixed crowd reaction before reminding the crowd that he told them last week that he was a champion who rolled with three of the greatest wrestlers. He's on the 96 Bulls, not buying $50 tracksuits and doing laundry. He then decides to stop being ambiguous and calls out the New Japan LA DOJO students. He's tired of them thinking they've done something, and begins to badmouth their trainer when Clark Connors interrupts him. Connors tells Yuta that all of the BCC wishes they could train with Katsuyori Shibata, something he has done for four years. He then challenges Yuta to a title match next week. Yuta shoves the microphone in his chest without answering. He gets half way up the ramp before turning around and yelling "you're on" back at Connors. I'm pumped for that.
The Foundation (Tracy Williams & Rhett Titus) vs. Aussie Open (Mark Davis & Kyle Fletcher)
This is the main card debut for Aussie Open, with their only other ROH match being a Future of Honor pre-show affair against The Boys. The Foundation have the former STRONG Tag Champs in their grasp until Davis surprises Titus with a big boot to the face. Titus fights his way out of the corner and rolls to the corner to tag Williams. He throws his heavy hands at Fletcher's chest and takes him down with a Gotch suplex. When Fletcher tries to pull him off of the top rope, he transitions into a Flying DDT for a two count. Titus gives Davis a receipt from earlier, giving him a big boot when he tries to pull Williams off of the apron. Williams however crashes and burns when attempting a knee strike off the apron, and Aussie Open drives the Foundation's spines into one another. The Dental Plan and Aussie Arrow get Aussie Open a two count on Williams. Williams escapes the Coriolois and gets Davis in a crossface. Titus puts Fletcher in a single leg crab so that he cannot save Davis, but Davis rolls to the ropes to save himself. Titus brings down Fletcher with a belly-to-belly suplex and nails a pair of yakuza kicks. The Hydraulic dropkick and a rolling clothesline from Williams put Fletcher down, but Davis saves his partner. They take out Davis, but enough time has passed where Fletcher is able to get his shoulder up after a frog splash from Williams. Fletcher escapes a piledriver from Williams and takes him out with a tombstone. Fletcher superkicks Titus into Close Your Eyes and Count To F*ck from Davis. This leaves Williams open for Coriolois, giving Aussie Open the win at 10:19. What a great debut for Aussie Open, who won over the Orlando crowd and planted their flag firmly in the tag division by defeating a pair of former tag champions. The Foundation were excellent foils for them, and they definitely had the crowd convinced a couple of times they were going to play spoiler to the debuting duo. Really good stuff all around. *** ½
Eddie Kingston vs. Ben Dejo
Kingston confronted Claudio last week, making it clear he was coming for his rivals' World title. He destroyed Dejo in 0:41, lighting him up with chops in the corner before tossing him across the ring with an exploder suplex and blasting him with the Backfist to the Future. That's a beautiful way to build up a challenger. Kingston called out Claudio again, and Claudio told "Edward" that a man without honor will never be champion. Claudio blows off Lexy Nair backstage, and an angry Kingston trails him, unable to catch up with the champ.
ROH Women's World Championship
Athena vs. Willow Nightingale
Athena has been the champion since 12.10.2022 and this is her fifth defense. Willow challenged for the title last week, using the CHIKARA logic of being eligible for the title match due to three consecutive singles wins. Somebody steal this system! Shockingly, Athena obeys the Code of Honor, and doesn't use it to blindside Willow with a strike. Athena does blast her with a forearm after Willow takes her down with a running crossbody. Willow gives a forearm right back as good as she got it, and then strung together multiple fisherwoman's suplexes on the champ. Athena is sent to the ring apron where she jams Willow's left arm across the top rope. She puts Willow in a half straightjacket choke and kicks away at her throat in the corner. Athena also rams her throat into the top rope to escape a waistlock. Athena dropkicks Willow to the floor and places her arm between the ring post and ring steps, dropkicking the steps into her shoulder, just like she did to Yuka Sakazaki last month. Athena waits for Willow to get back to her feet before attempting a Frankensteiner from the ring apron. Willow not only halts Athena, but powerbombs her on the apron and drops her on the floor with a Death Valley Driver! They both make it back into the ring just before the twenty count. Willow rocks the champion with a hip attack and lariat in the corner. She then rolls Athena up into a big boot before taking her back down with a spinebuster for a two count. Her arm is in too much pain to pull off the Bae Bomb. Athena capitalizes on this by driving her arm into the mat and applying a crossface. She converts into a Fujiwara armbar, which Willow escapes using a roll-up pin. Athena instantly drills her with double knees into the corner and muscles her up into the Wrath of the Goddess. Athena can't believe Willow is able to get her shoulder up from her pin attempt. She notices Willow coming at her and rolls away, but turns around right into a Pounce for two. Athena surprises Willow with a superkick, but when she goes to the second rope, Willow pulls her away and into the Bae Bomb for two. Athena heads up the entrance ramp. Willow takes the bait and comes after her, and when she gets to Athena, Athena digs her fingers into her eyes. Athena slams Willow off of her shoulders onto the entrance ramp and rams her head into the steel steps. Athena then takes her out with the O-Face for the pin at 14:44. This has everything you could want from a title match – a gutsy challenger the fans love, a conniving champion with a ton of personality, great wrestling, and alluring nearfalls. The character Athena has been developing on Dark was on full display in this match and worked so well when positioned against the pure-hearted but aggressive Willow. I would make Willow and Athena the focal points for this division going forward. This was the best Women's title match since the tournament finals in 2021. ****
The last three matches (not including Kingston's squash), and the pacing of the show made this an easier watch than the first week. However, there was still too much bloat. The concept of more matches meaning more value is a fallacy. You could have cut the three matches that preceded the Pure Title match and the episode would've still been wholly satisfying. The audience would still have been presented with three title matches, and three enhancement matches building to immediate TV and PPV matches. I truly believe that cutting these inconsequential matches would do more good than harm.