I was debating whether to include this match in my review this week, as KUSHIDA has been such a non-factor in New Japan since returning in July, and not having competed on a U.S. New Japan show since the Summer, but I tend to cover just about every other New Japan appearance in AEW so screw it: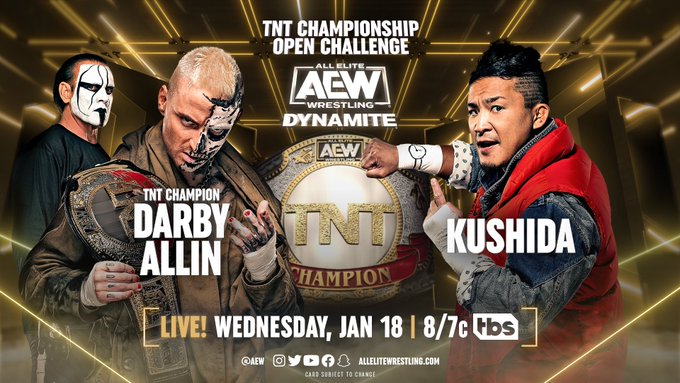 AEW TNT Championship
Darby Allin vs. KUSHIDA
AEW Dynamite #172 – Fresno, CA – 1.18.2023
Allin has been champion since 1.4.2023 and this is his third defense. Kevin Knight, who has become a tag team partner with KUSHIDA, as well as The DKC are in KUSHIDA's corner, while Sting is in Allin's corner. KUSHIDA forces Allin to the ropes in the opening exchange to break a potential armbreaker. Allin rolls to the outside after KUSHIDA hip tosses him into a dropkick. Allin sends KUSHIDA into the barricades, but KUSHIDA ends up kicking Allin in the arm as Allin slides back into the ring. KUSHIDA further attacks the arm, including an arm capture bulldog on the floor. After two Shotei's he dropkicks Allin's arm against the bottom rope. KUSHIDA Pele kicks Allin to the corner. Allin stops KUSHIDA's back handspring elbow and gives him the Scorpion Death Drop. KUSHIDA knocks him back to the floor with a front handspring double kick, and lands a diving knee strike to Allin's shoulder. Allin flips over KUSHIDA into a stunner on the ring apron. Allin attempts a shotgun dropkick to the floor, but KUSHIDA swipes him out of mid-air into a cross armbreaker! Allin rolls to the apron and moves when he sees KUSHIDA coming. Still, KUSHIDA pulls Allin up to the top turnbuckle in a key lock, and Allin back flips off to bring KUSHIDA to the mat. KUSHIDA pulls Allin into the Hoverboard Lock. DKC and Knight try to convince Sting to throw in the towel, but Sting throws it into the crowd. KUSHIDA rolls Allin away when he sees Allin going towards the ropes. When he tries to put on a new submission, Allin instead maneuvers KUSHIDA into the Last Supper for the pin at 13:38. This was great, in that KUSHIDA looked incredible, and Allin looked smart in finding the opening to catch KUSHIDA in a clutch where arm strength wasn't necessary to win the contest. If we get Sting and Allin vs. Knight Time, I'd be a very happy man. ***¾
Los Angeles, CA – 1.21.2023
Commentary is provided by Kevin Kelly & Alex Koslov.
C4 (Cody Chhun & Guillermo Rosas) vs. The West Coast Wrecking Crew (Royce Isaacs & Jorel Nelson)
C4 has a strong start against the STRONG veterans. It looked like the WCWC was going to turn the match in their favor when Isaacs launched Chhun in the air as he came off of the ropes, resulting in him landing on his sternum. However, Rosas saved him from a double suplex, and C4 landed dropkicks to both members of the WCWC. They even scored a nearfall on Nelson with a dropkick/suplex combo. Nelson took down Rosas with a shoulder tackle and then knocked Chhun to the floor, where Isaacs walked him around the ring in a vertical position before suplexing him onto the mats. Rosas was beaten down by the WCWC until he escaped a waistlock from Nelson and kicked away Isaacs to get a tag to the recovered Chhun. Chhun scores a close nearfall on Isaacs with a Falcon Arrow. WCWC double team strike Chhun ending with a pump handle powerslam from Isaacs. Chhun is able to Frankensteiner Isaacs into Nelson to avoid another double team predicament, and then passes Nelson to Rosas for a sit-out powerbomb. Chhun suicide dives onto Isaacs while Rosas pins Nelson after a modified Angle Slam, but Nelson kicks out on his own. Isaacs grabs Rosas' leg from the floor so Nelson can clobber him with double knees in the corner. Nelson then gives Chhun a fisherman's suplex. Isaacs drops him with a Dominator right into a top rope elbow smash from Nelson, with Isaacs pinning Chunn at 10:37. A nice, dominant win for Nelson and Isaacs as they re-climb the ladder for tag title contention. If this is the end of STRONG, it is unfortunate C4 didn't come in until close to the end of the show's run, as their overall contributions could have been more significant. **½
KENTA vs. QT Marshall
KENTA coming over to the U.S. to wrestle for CZW and wrestle QT Marshall sounds like a rib. At least he also become the #1 Contender to the STRONG Openweight Championship. Marshall shoved KENTA back first into the ring post. When he called for the Diamond Cutter, KENTA cut him off and dropped him with a DDT. Marshall blocked the Green Killer by pulling KENTA throat-first into the middle rope, and then dropped him with a pop up punch for two. KENTA blocks another Diamond Cutter attempt and mi paso's Marshall to the apron and finally scores with the Green Killer. The referee gets knocked down when Marshall escapes the Go 2 Sleep. Marshall tries using a chair and KENTA boots him in the face to cut him off. KENTA hits him with the chair on the back a couple of times and Marshall low blows him. When Marshall tries to powerbomb KENTA onto the chair, KENTA counters with a DDT onto the chair. KENTA gets the referee up before hitting Marshall with the Go 2 Sleep for the pin at 12:35. Did the #1 Contender really need the assistance of a chair to defeat QT Marshall? I find that very frustrating. That frustration lasted most of the match, truthfully. **¼
STRONG Openweight Tag Team Championship
The Motor City Machine Guns (Alex Shelley & Chris Sabin) vs. Roppongi Vice (Rocky Romero & Trent Beretta)
The MCMG have been champions since 10.28.2022 and this is their second defense. This is a first time match-up. The only time these two teams previously met was in May 2016 in a three way tag team match with the Addiction, with the MCMG pinning Christopher Daniels to win the match. Sabin uses a hug to get a schoolboy pin on Beretta. Romero uses a hip swivel to take down Shelley with a single leg. Sabin knee strikes Romero in the back and Shelley whips him into the ropes. Sabin then knocks Beretta off of the apron. Romero however maneuvers the MCMG into opposite corners and takes them down with Forever clotheslines. Beretta helps Romero pummel Shelley in their corner. Sabin trips Romero when Shelley shoves him to the ropes after escaping a headlock. Shelley then passes Sabin Romero's right leg, which Sabin dragonscrew leg whips in the ropes. Shelley dragonscrews his left leg, and then drops his knee across the back of Romero's left knee while it's propped up on the bottom rope. They continue to attack Romero's leg until he halts Shelley with an uppercut and uses the second rope to pull off a tornado DDT. Beretta gets tagged in and smashes Sabin with a high-angle German suplex and a half-nelson suplex. Shelley fails to save Sabin, and Beretta drops Sabin with a piledriver for a two count. Beretta pulls Sabin to the apron, hoping for a second piledriver, and instead finds himself being backdropped onto the apron. Shelley mi paso's Romero to the floor where he eats double PK's from the champions. RPG Vice cut off Sabin with double knee strikes and sends Shelley to the outside. Romero dropkicks Sabin in the side of the head as Sabin lays across the top rope, into a sliding knee strike from Beretta for two. Shelley saves Sabin from Strong Zero. Shelley superkicks Beretta into a Code Red from Sabin for two. Romero saves Beretta from a powerbomb/Shiranui combo, and RPG Vice delivers that combo to Sabin instead. Shelley saves Sabin from being pinned at the final moment. Sabin is able to recoup and take out RPG Vice with a double crossbody. Beretta accidentally superkicks Romero. Sabin drops Beretta with an assisted Ace Crusher and Beretta rolls to the floor. The Guns drop Romero with RPG Vice's own Strong Zero, and Beretta jumps in to break the pin. They take out Beretta with the Dream Sequence before hitting Romero with the AS/CS Rush. That leads to the Dirt Bomb, giving the champions the pin at 18:12. That was spirited and exciting. It was a slight surprise to see the Guns take the role of the Rudos here, but I think it was the right call, and I am glad we got to see this particular tag team match-up finally happen. To no surprise, the teams had excellent chemistry. The MCMG gave RPG Vice a nice post-match hug, because you gotta give the people what they want. ***¾
In the backstage comments, The West Coast Wrecking Crew approach the Guns and challenge them to a title match at "Battle In The Valley." Shelley accepts, and says in no uncertain terms that they won't be the team the WCWC uses to elevate themselves.