Baltimore, MD – 1.21.2022
The night before this episode, Gresham once again defended the ROH World Champion in Impact Wrestling: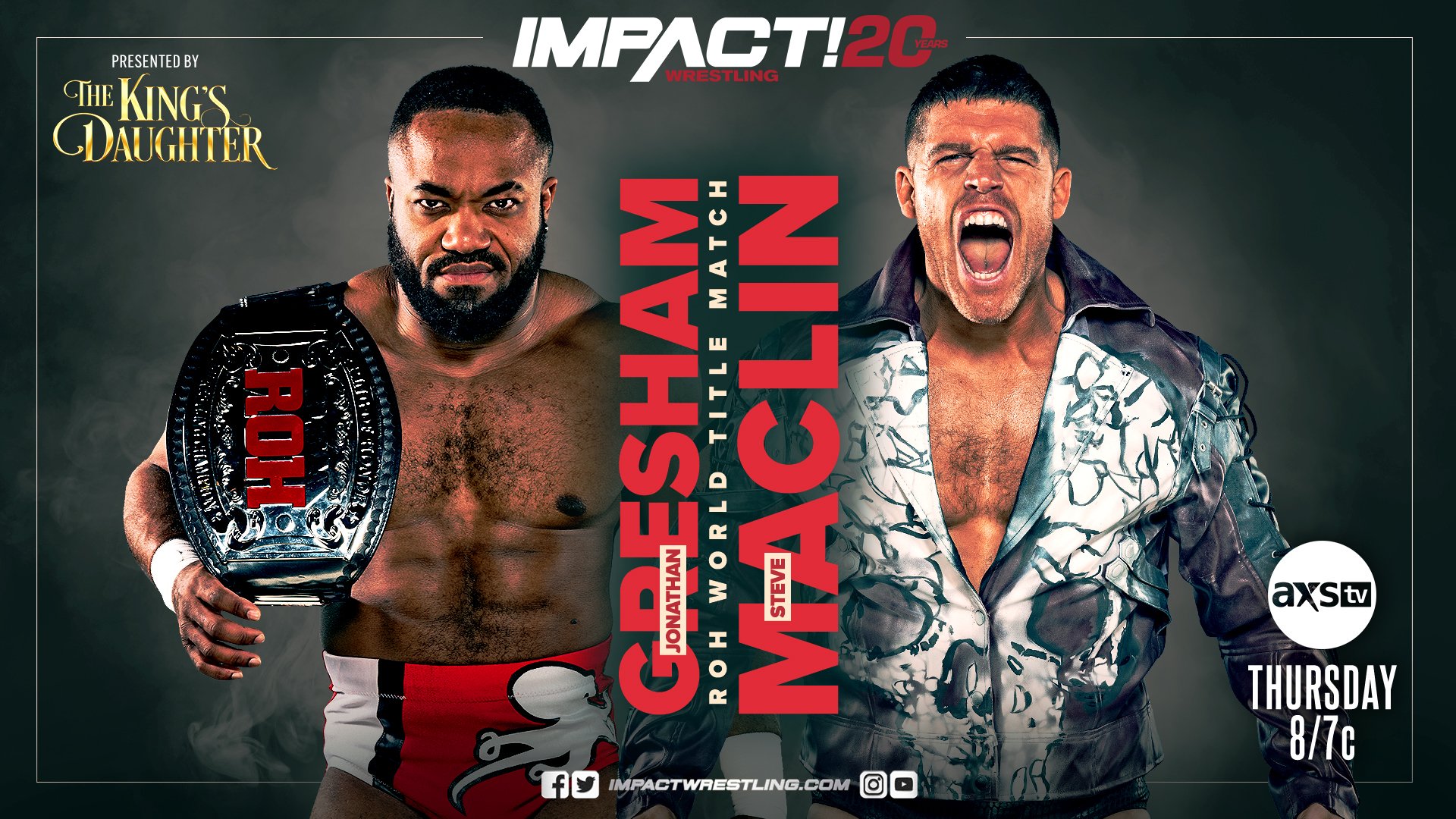 ROH World Championship – Pure Rules Match
Jonathan Gresham vs. Steve Maclin
Impact Wrestling #911 – Dallas, TX – 1.20.2022
Gresham has been champion since 12.11.2021 and this is his sixth defense. Ian Riccaboni is on commentary for the bout. The Pure Rules are as follows:
*The competitors are to obey the "Code of Honor", shaking one another's hand before and after the match.
*Each wrestler has 3 rope breaks to stop submission holds and pinfalls. After a wrestler has used all 3 of their rope breaks, submission and pin attempts on or under the ropes by the opponent are considered legal.
*Closed-fist punches to the face are not permitted. Punches to other parts of the body are permitted, excluding low blows. The first use of a closed fist results in a warning, a second will be a disqualification.
*This match has a 60 minute time limit.
Gresham drop toe holds Maclin into the middle rope early, which counts as his first rope break. Maclin tries doing the same, and pushes Gresham to the ropes when Gresham halts. Maclin uses his rope break to escape a hammerlock. Maclin uses a closed-fist to knock down Gresham when Gresham offers a handshake, earning him a warning. Maclin butterflies Gresham into a backbreaker for two. Gresham gets his feet on the ropes when Maclin lifts him up in a waistlock. Maclin gets two again after an Angle Slam. Gresham uses his third and final rope break to escape a Boston Crab. Maclin attacks Gresham's lower back and puts on a Camel Clutch. After Gresham escapes, Maclin slams him multiple times. Gresham knocks Maclin down with a lionsault press. Gresham gets two with a Magistral. Maclin scops Gresham up into a tree of woe and tackles him upside down for two. Gresham pops Maclin's knee. Maclin uses his third and final rope break when Gresham grabs his ankle afterwards. Gresham clobbers Maclin with two running forearm shots to the jaw. Maclin halts the third and hits two clotheslines. Maclin's knee gives out when he attempts Mayhem For All. Gresham forearms him in the face and applies a figure four leg lock. Maclin strikes at Gresham while in the hold. Gresham uses the ropes for leverage to pin Maclin while in the hold, getting the three count at 10:20. This exceeded my expectations. Maclin's style was very well suited to Gresham and the crowd was into the action. It didn't reach the heights of the Sabin match, but it got much closer than I expected, and I loved the unique ending. ***½
Unfortunately, Gresham's scheduled match with Blake Christian at GCW's Hammerstein Show did not come to pass. Hopefully we do get to see it in the future.
This week's episode features two matches from Final Battle: End of an Era, including what I felt was ROH's match of the year. Additionally, you get to see some of the "thank you" videos from ROH past roster members, including Jimmy Jacobs, Christopher Daniels, and CM Punk. You can read my review of the entire show here, but below are the two matches featured this week:
ROH World Television Championship
Dalton Castle vs. Joe Hendry vs. Rhett Titus vs. Silas Young
Lee has been champion since 11.19.2021 and this is his first defense. The baby chicks are in his corner and Dak Draper joins commentary for this match. This is Hendry's first match in ROH since February 2020. Neither he or Titus are in the Top 3 of the TV title contenders, but I guess that's out the window when you're about to be on hiatus. Former partners Hendry and Castle are poised to square off when Young drags Hendry outside and sends him into the barricades. Castle lowers his hips to toss Young across the ring. Titus tries to steal a pin while Castle is celebrating on the floor. Castle clotheslines Titus to the floor and wipes him out with a cannonball senton off the apron. Young clotheslines Hendry off the apron and hits FYB/FYF on Castle for two. Titus takes down Hendry with his belly-to-belly suplex and Northern Lights suplexes Titus, catching Titus as he attempts a slingshot. Castle looks for Bang-A-Rang which Titus thwarts with a victory roll. Castle does damage to everyone. Young sends Castle out, then Titus sends Young out. Hendry catches Titus' crossbody and muscles him up into a release press slam. Hendry fallaway slams Titus and Young at the same time, and Castle sneaks in a pin on Titus for two. Hendry powerbombs Titus and Castle breaks the pin, offended Hendry would try to take his title. After Castle takes down Young with Bang-A-Rang, Hendry clobbers Castle with the TV title! Draper runs down from commentary and big boots Hendry. Titus gets rid of him with a dropkick. Young Finlay rolls Titus into the Pee Gee Waja Plunge. Titus moves and hits the Hydraulic Dropkick on Young for the pin and the title at 8:30. If Castle wasn't going to retain, Titus absolutely deserved to win this for the fourteen plus years he's given ROH. A perfect "gold watch" moment for a dedicated homegrown talent. That said, Castle stole the show, but it was also great to see Hendry one more (final?) time. ***
ROH World Tag Team Championship
The OGK (Matt Taven & Mike Bennett) vs. The Briscoes (Jay Briscoe & Mark Briscoe)
The OGK have been champions since 11.14.2021 and this is their second defense. Maria Kanellis-Bennett is in the OGK's corner, reprising her role from their initial run in 2014-2015. Cary Silkin is on commentary for the bout. The Briscoes double team Taven to start. They boot Bennett to the floor, which enables Taven to wipe out the Briscoes on the outside with kicks and a suicide dive. He accidentally collides with Bennett with the Flight of the Conqueror, and Mark uses a chair to propel himself onto the OGK with a tope con hilo. In the ring, Bennett blind tags himself in. He superkicks Jay into a Purple Thunder Bomb from Taven for two. Mark gives both of the OGK uranage suplexes, then with Jay hits Redneck Boogie on Taven. Taven escapes a Jay Driller with a small package and tags Bennett. He takes out Jay with a brainbuster and rolling forearm smash. Taven splashes a draping Jay off the ring apron and to the floor. Taven is able to take out Jay with the Climax in the ring to end a strike exchange with all four competitors. Mark takes out Bennett with a pescado. Jay snaps off a Frankensteiner on Taven. Mark boots him to the floor, and the Briscoes wipe out the OGK on the floor. Mark hits the Froggy Bow on Taven in the ring, but Maria pulls referee Todd Sinclair's leg to stop the count! Bennett looks to take out Mark when Mark confronts Maria, but he ends up taking out Maria with a spear! The OGK recover and Bennett gives Jay a piledriver on the floor. Taven then destroys Mark with a Doomsday Flight of the Conqueror! They then hit the Proton Pack on Mark inside of the ring for two. The Hail Mary gets them two as Jay breaks the pin at the last second. Taven lays out Mark with Just The Tip. Mark gets his knees up to block a frog splash. Jay nails a Jay Driller, and Mark pins Taven for two. The Briscoes lay him out with the Doomsday Device for another two. The Jay Driller and Froggy Bow get Mark the pin on Taven at 15:56. These two had great chemistry during their inaugural feud, and with more years of experience behind them, they produced their best match together yet, at least since February 2015. This felt like both a celebration of ROH's two top teams, but wrestled in a way that made you believe each team needed to be THE team to end this era as the champs. The decision to switch the titles was the right call – this is the Briscoes tag team division and company. An absolutely awesome match, and my favorite ROH match of the entire year. ****¼