Baltimore, MD – 12.3.2021
Commentary is provided by Ian Riccaboni and Caprice Coleman.
On November 26th, Shane Taylor Promotions made another outside Six Man Title defense:

Photo Credit: Twitter user @Juanki1982
ROH World Six Man Tag Team Championship
Shane Taylor Promotions (Shane Taylor & S.O.S. (Kaun & Moses)) vs. Caprice Coleman, T.I.M. & Zuka King
WrestleCade 6th Annual Showcase of Champions – Winston-Salem, NC – 11.26.2021
Shane Taylor Promotions have been champions since 2.19.2021 and this is their ninth defense. All of their opponents are champions in the local AML promotion. Coleman and T.I.M. wrestle smartly against STP, but an over confident King spits his gum at Taylor. Taylor lays him out with a haymaker to make him pay. Taylor also is able to haymaker Coleman off the ring apron into Moses' arms. Moses lawn darts Coleman into the ring post, leading STP to sequester and beat down Coleman further in their corner. Moses is eventually taken down with a spin kick to the back of the neck leading to T.I.M. being tagged in. He runs roughshod on STP, almost getting a two count on Taylor thanks to an assist from King. S.O.S. save their leader. Moses wipes out Coleman and King with a cannonball senton on one side of the ring, while T.I.M. wipes out Kaun and Taylor with a tope con hilo on a different side. All six men fight back in the ring, and it ends when Taylor pins King with the Marcus Garvey Driver at 17:38. I have not seen T.I.M. in years and he really impressed me here. It was also nice to see Coleman get the chance to wrestle for a significant period of time. The fans were very much into their hometown champions which made for an interesting dynamic, but one that STP adjusted to with ease. Another good defense for STP.. ***
An exclusive singles match was featured on the November 30th episode of Week By Week:
Chris Dickinson vs. Taylor Rust
Rust made Dickinson go for the ropes when he was close to applying a Trailer Hitch. Rust then twists Dickinson's ankle while kneeling on his left arm, and Dickinson looks to counter into a cross armbreaker. Rust uses his legs to snap Dickinson's left arm. When he approaches on his feet, Dickinson chops him away and knocks him down with a back elbow. Dickinson takes him down with a dragonscrew leg whip and applies an ankle lock until Rust gets the ropes. Rust fights back with forearm strikes and a German suplex. He takes Dickinson off of his feet with an axe kick. Rust applies the Gaia Lock. It takes a lot of energy for Dickinson to scoot his way to the ropes. Dickinson gets Rust in a kimura and then goes for the cross armbreaker again. When that doesn't pan out, Dickinson goes for a suplex. Rust reverses it and spins Dickinson into a boot to the face. Dickinson catches Rust's ankle to block a face kick. Dickinson German suplexes Rust and takes him down with a lariat for the pin at 11:51. This to me embodied what I think VLNCE UNLTD has been trying to get across this entire time – showing that they're top notch technical wrestlers who can (and like to) slug it out when the time calls for it. It was engaging and enjoyable to watch, and probably one of my favorite Dickinson outings in ROH. ***
Speaking of VLNCE UNLTD, Brody King, Homicide and Tony Deppen come down to congratulate Dickinson. They all swarm around Rust who takes the first strike. He is beaten down, but Foundation members Jonathan Gresham, Tracy Williams, and Rhett Titus run out to send them packing.
A singles match was also featured on the December 1st episode of Women's Division Wednesday:
Trish Adora vs. Janai Kai
This is Kai's ROH debut. Like Adora, Kai is also from the Washington D.C. area and has been making a name for herself in JCW and Beyond Wrestling amongst other promotions. Adora scores first with a double leg takedown. Adora shows a confident smile when she gets Kai in a grounded headscissors. When Kai escapes and gets to her feet, Adora tries a standing kimura. Kai backs Adora to the corner and lands a kick. Adora ducks a high kick and rolls up Kai for two. Kai avoids a Cattle Mutilation attempt. She controls Adora by her wrist as she trips her down to the mat. She kicks Adora in the spine and takes her over with a suplex. Adora ducks a tornado kick and throws Kai shoulder and face first to the mat out of a wristlock. Kai throws a flurry of palm strikes at Adora's chest and connects with a hard chest kick. Adora avoids a corner attack and lands a high kick to Kai's head. Kai catches a Lariat Tubman attempt. She goes for a dragon sleeper, but Adora repeatedly drives her knees into Kai's face to separate herself. Kai misses a tornado kick and Adora lays her out with Lariat Tubman at 11:36. Adora did a lot to make Kai appear to be on her level which is a big compliment. Kai is still rough around the edges, but you can see she has the tools to become a good, well-rounded competitor, and matches like this will only help her improve. This felt pretty different from a lot of Adora's matches and I like that. **¾
Now onto this week's episode!
ROH Women's Championship # Contenders Match
Willow vs. Mandy Leon
The winner of this match challenges Rok-C for the Women's championship at "Final Battle" on December 11th. Rok-C is on commentary to scout the competition. Angelina Love is in Leon's corner. Willow had a firm grasp on the match until Love helped Leon get the rope to escape a submission. This seemed to get in Willow's head a little bit, and when she went for a PK, Leon caught her leg and sent Willow face first into the ring frame. Leon then threw Willow into the barricades before suplexing her onto the floor. She attacks Willow's neck, which she broke two year prior, back inside the ring. Willow side Russian Leg sweeps Leon into a submission, but a distraction from Love allows Leon to pull Willow's hair and escape. Willow comes back with a series of clotheslines and a spinebuster for two. Leon counters a powerbomb with a back suplex for two. Willow kicks Leon to the corner and crushes her with a cannonball senton. Willow however misses a top rope moonsault and Leon shotgun dropkicks Willow in the side of the head. She hits Astral Projection but takes her time to cover Willow, and that enables Willow to get her shoulder up before the three count. An exasperated Leon asks for Love to get a steel chair and she obliges. Quinn McKay runs out to stop her, as does Chelsea Green. Several members of the women's roster run out to get involved in this chair tug of war, but Max The Impaler brings everything to a screeching halt. Max throws the chair out of Love's hands and tosses her onto Holidead, Vita VonStarr and Miranda Alize. In the ring, Willow superkicks Leon and hits the Babe Bomb for the pin at 11:30! The ending was a bit of a cluster, but otherwise this was a good match, definitely Leon's best to date. Leon even obeyed the Code of Honor at the end! I am so excited for Willow vs. Rok-C, it absolutely has the potential to steal the show. The ending also makes me think the ten person tag on Hour One of Final Battle will involve the women from the chair pull apart. **¾
We then get clips from the Week by Week match between Chris Dickinson and Taylor Rust. Scroll up a little bit to see my review. We then get a run down of the "Road to Final Battle 2021" card, which consists of five matches that will air every weekday from December 6th through December 10th on ROH's YouTube channel.
Bandido vs. PJ Black
Jonathan Gresham is on commentary to watch the champion who he challenges Sunday at "Final Battle." Flip Gordon is in Black's corner and Rey Horus is in Bandido's corner. The match is competitive and Black is able to hang with the champion. Somewhere along the line, Black's attitude changes and he tosses Bandido to the floor. He instructs Gordon to punch Bandido in the face. When he does, Todd Sinclair disqualifies Black, awarding Bandido the match at 6:03. Horus then dives onto Black and Gordon. When the dust settles, they agree on a tag team match. All of this was completely unnecessary.
MexiSquad (Bandido & Rey Horus) vs. PJ Black & Flip Gordon
Gordon scores with a missile dropkick and springboard Sling Blade onto Horus, who is still wearing his letterman's jacket. Gordon and Black beat down Horus in their half of the ring until Black accidentally dropkicks Gordon and Horus comes off the top rope with a spike tornado DDT to Black. Bandido backdrops Black. Black rolls to the floor and Bandido press slams Gordon onto him! Bandido then assists Horus with a tope con hilo onto Black and Gordon. Gordon kicks out of a frog splash from Bandido, and Black makes the save when Bandido aids Horus with a splash onto Gordon. Horus takes both a powerbomb Blockbuster and a Doomsday Destroyer, and Bandido saves his partner. Bandido hits a super Spanish Fly and the 21 Plex on Black for the pin at 6:56. That was super fun, and a solid momentum builder for the champion heading into Final Battle. ***
Speaking of Final Battle, we get a promo video hyping up the Championship match and a rundown of the card so far. Amongst them is a newly announced trios match: VLNCE UNLTD (Brody King, Homicide & Tony Deppen) vs. Tracy Williams, Taylor Rust & Eli Isom, in what is being called a "Violence vs. Pure" match.
The same weekend of this episode, The OGK made their first defense of the ROH Tag Team Titles: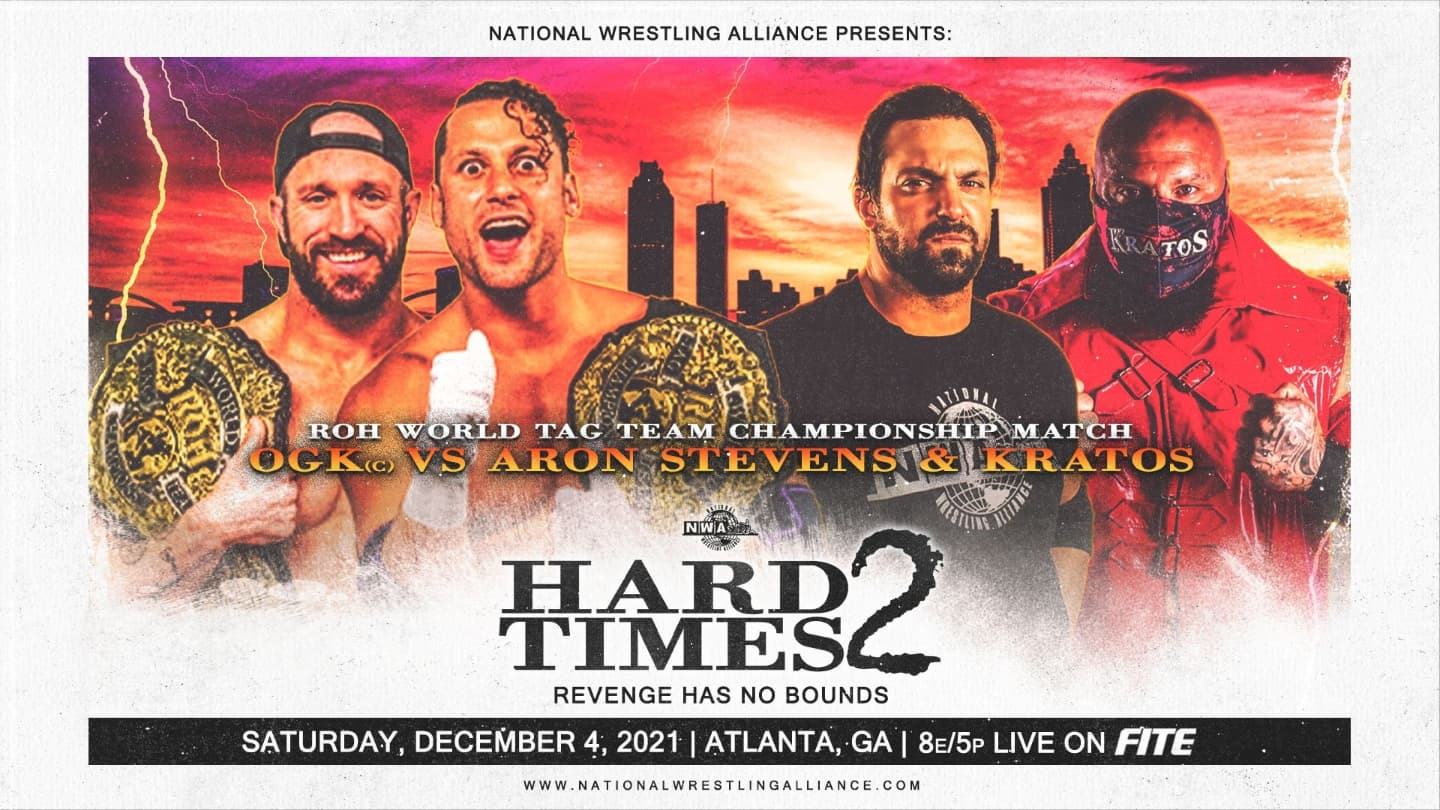 ROH World Tag Team Championship
The OGK (Matt Taven & Mike Bennett) vs. Aron Stevens & JR Kratos
NWA "Hard Times 2: Revenge Has No Bounds" – Atlanta, GA – 12.4.2021
The OGK have been champions since 11.14.2021 and this is their first defense. Not sure what Stevens and Kratos did to earn this match, but them being former NWA World Tag Team champions seems sufficient enough for a defense in the NWA. Kratos overwhelms Bennett with his size. Stevens thumbs Bennett in the eye, but claims it was an accident. Bennett accepts Stevens' apology as he tags Taven. Taven dropkicks Stevens and takes him down with a rolling neckbreaker. Stevens feigns an eye poke so that Kratos can clobber Taven with a forearm smash as Taven attempts the Kick of the King. Kratos and Stevens beat down Taven in their corner. Kratos seems to be trying to get Stevens to become more vicious, and we see some of that with repeated elbow smashes to Taven's face. Taven roundhouse kicks Kratos and enzuigiri's Stevens, and then ducks under a clothesline from Kratos so he can tag Bennett. Bennett clears Stevens out of the ring and impressively pulls off a Death Valley Driver on Kratos. Taven superkicks Kratos into a spear from Bennett for two. Kratos catches Taven on the top turnbuckle and brings him down with his own Death Valley Driver for two. Bennett low bridges the top rope to send a charging Kratos outside. Stevens purposefully goes to Bennett's eyes to escape the Proton Pack/Pump Kick combo. Stevens O'Connor rolls Taven. Bennett forearms Stevens in the face, allowing Taven to reverse the O'Connor Roll and pin Stevens at 10:57. This was a solid first defense for OGK, but most of the focus was on whatever was going on with Stevens' new attitude. The STRONG fan in me also wishes we got more Kratos. **¾
Overall: An inessential but fun episode. It's great they were focused on building the two title matches, but it isn't as if you're missing crucial story points if for whatever reason you miss this episode.