Philadelphia, PA – 11.19.2021
Since my last review, Rok-C's 3rd and 4th defenses of the ROH Women's Championship have surfaced. Additionally, Rok-C made another on November 13th: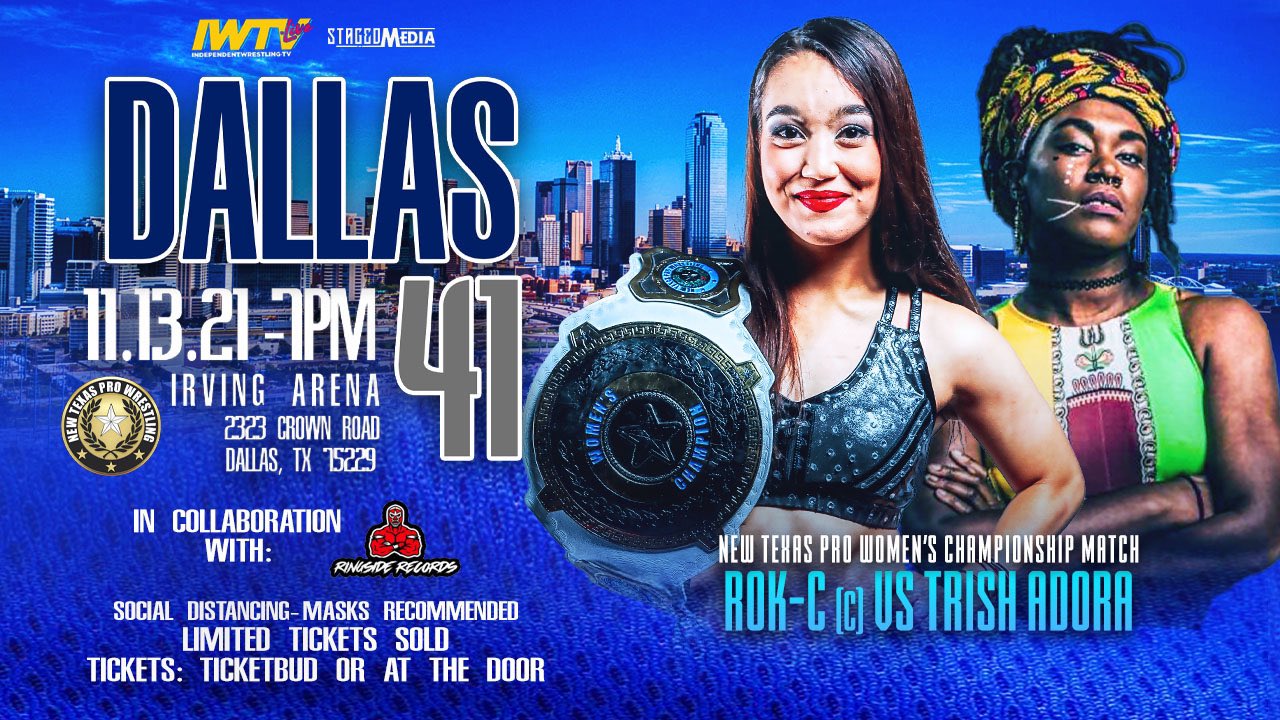 ROH Women's World Championship & New Texas Pro Women's Championship; 2 Falls Match
Rok-C vs. Trish Adora
New Texas Pro "Dallas 41" – Dallas, TX – 11.13.2021
Rok-C has been the Women's World champion since 9.12.2021 and this is her sixth defense. Rok-C has been the New Texas Pro Women's champion since 5.29.2021 and this is her sixth defense. Unlike her defense last month, this is a one-fall match for both titles. The feeling out process starts out respectful. When Rok-C curtsy's after a shoulder block and brings Adora to the mat in a front bridge hammerlock, things get a bit tense. Rok-C attempts a headscissors and Adora halts her with a backbreaker. Adora works over Rok-C's left arm while also doing some damage to her neck. Rok-C uses chops to try and neutralize Adora, but Adora snapmares her into an uppercut to the neck. Rok-C does however get Adora trapped in a hammerlock and sends her face first into the middle turnbuckle. Rok-C takes her down with a Thesz Press. Adora blocks a side Russian leg sweep and brings down Rok-C into a crossface. Rok-C rolls Adora onto her shoulders for a pin to make Adora release the hold, and then applies her own crossface. She rolls Adora to the middle of the ring when Adora is close to the ropes, so Adora muscles Rok-C up into another backbreaker to escape. Rok-C however is able to deliver the side Russian leg sweep as well as Rok Knees for two. Adora rolls through a sunset flip and applies the Cattle Mutilation. Rok-C is able to get her foot on the bottom rope to escape. Adora knocks down Rok-C with a bicycle kick when Rok-C avoids another Cattle Mutilation. Rok-C uses a crucifix to block Lariat Tubman. After trading nearfalls, Rok-C prawn holds Adora into a bridging back cradle for the pin at 16:57. This was my favorite Rok-C defense yet. Adora had to unload everything to keep up with the champion, but the fact that her lariat never connected left some doubt just in case they do cross paths for the title again in ROH. Really good stuff, and worth checking out if you're a fan of either competitor. ***½
The November 16th episode of Week by Week featured an encore showing of the Pure Rules match between Tracy Williams and Rust Taylor from "Honor For All 2021." You can read my review of that match here.
Two women made their return to action November 17th episode of Women's Division Wednesday:
Sumie Sakai vs. Ashley Vox
Vita VonStarr joins Ian and Caprice on commentary. Vox headscissors Sakai on the floor and follows up with a suicide dive. Back in the ring, Sakai Judo tosses her way out of a Fish Hook attempt and takes down Vox with a knee to the stomach. Sakai attacks Vox's lower back. Vox rattles Sakai with an enzuigiri, but Sakai lands a back elbow before both of them fall to the mat. Vox scores a European uppercut when they get back to their feet. She goes for the Fish Hook but Sakai bites down on her finger, so Vox Jon Woo dropkicks Sakai instead. Sakai reverses the momentum of Vox's fisherwoman's buster and hits it herself. Vox Fish Hooks Sakai to block a superplex. After a superkick she lands a bridging fisherwoman's suplex for two. Sakai German suplexes Vox before hitting Smash Mouth for the pin at 8:12. Sakai is solid enough but I think she could be better utilized as the veteran to elevate the newer wrestlers, similar to the role Jay Lethal was playing before moving on to AEW. Vox has had two impressive showings on Women's Division Wednesday, so if ROH does return from the hiatus, I really hope to see more of her. **¾
Now onto this week's episode!
Pure Rules Match
Brian Johnson vs. John Walters
Johnson currently tops the Pure Division rankings, and Walters is aiming to get back on the leaderboard. The Pure Rules are as follows:
*The competitors are to obey the "Code of Honor", shaking one another's hand before and after the match.
*Each wrestler has 3 rope breaks to stop submission holds and pinfalls. After a wrestler has used all 3 of their rope breaks, submission and pin attempts on or under the ropes by the opponent are considered legal.
*Closed-fist punches to the face are not permitted. Punches to other parts of the body are permitted, excluding low blows. The first use of a closed fist results in a warning, a second will be a disqualification.
*This match has a 15 minute time limit. If the time limit expires, three judges will determine the outcome.
*Any wrestler who interferes will be automatically terminated from the roster.
As Walters outmaneuvered Johnson, he damaged his left shoulder and neck. Johnson however was able to crotch Walters on the top turnbuckle and bring him down with Spike Eskin for two. Johnson successfully uses elbow shots to keep control, but ends up with a closed-fist warning while attacking Walters on the mat. Walters makes his way back to the top rope, and this time he successfully lands a leaping leg drop to Johnson's left shoulder. Walters rolls Johnson into an Omoplata, and Johnson spends his first rope break to escape. Johnson gets his boot up to block a corner attack. He gets caught holding Walters' tights during a schoolboy. He ear claps Walters, and tries to pull down Walter's knee pad which is underneath his tights. Walters sunset rolls Johnson into a sharpshooter, and Johnson uses his second rope break to escape. Walters avoids another ear clap and pulls Johnson's knee pad down as retribution. He tries another sharpshooter, but Johnson uses his third and final rope break to avoid it. As Todd Sinclair is updating Bobby Cruise, Johnson pokes Walters eye. He then kicks out Walters' knee and Walters falls face first into Johnson's exposed knee. A pleased Johnson puts down a dazed Walters with Trust The Process for the pin at 11:30. As much as I don't really want to see Walters challenge for the Pure Title, this story was told very well and defeating a former Pure Champion definitely adds credibility to a future challenge. ***
Women's Championship Contenders Match
Allysin Kay vs. Mandy Leon vs. Trish Adora
The winner of this match will face Willow in a #1 Contenders match for the Women's Championship on the December 3rd episode of television. Marti Belle is in Kay's corner and Angelina Love is in Leon's corner. Chelsea Green is on commentary. Leon is content to let Adora and Kay fight and try to pick up the scraps. She has to break up a pin and ends up fighting the other opponents two on one. She actually does a decent job, but when Kay and Leon get her in a submission at the same time, they end up fighting one another. Leon gets the benefit of a Tower of Doom. She tosses Adora outside after failing to pin both of her opponents. Love breaks up Belle's powerbomb on Leon. Leon then hits Astral Projection on Kay for the pin at 6:58. This was great when it was Adora facing Kay, and super messy when Leon was involved. I hope and pray Willow wins the #1 contender match in two weeks, as Leon challenging Rok-C sounds like a possible disaster. *
ROH World Television Championship
Dragon Lee vs. Dalton Castle
Lee has been champion since 7.11.2021 and this is his second defense. Dak Draper is on commentary and the baby chicks are in Castle's corner. After some very even grappling, Castle almost has Lee in his grasp for the Bang-A-Rang. Lee uses the ropes to escape and sends Castle to the floor. After striking the "Tranquilo" pose, he tosses Castle to the other side of the ring and drills him into the barricades with a suicide dive .Lee fish hooks Castle and bites his ear back in the ring. Castle avoids a double stomp across the top rope and turns Lee inside out with a lariat from the apron. Castle does some damage to Lee's midsection before throwing him over the barricades. Lee crashes ribs first onto the concrete floor. In the ring he German suplexes Lee right onto his head. Lee is able to avoid a corner attack and land a slingshot single leg dropkick as Castle is seated. Lee chokes him before hitting the Dragon's Breath dropkick for two. Castle gets thrown over the barricade. The baby chicks stand in the way of Lee's dive, so Lee wipes them out with a tope con hilo. Castle is able to atack Lee, but in the ring Lee pulls off a ripcord German suplex and a clothesline for two. He calls for the Incineration Knee, and Castle cuts him off with a clothesline of his own. When Lee goes for the knee again, Castle catches him with Bang-A-Rang. Kenny King and La Bestia del Ring come to ringside looking to interject, but they are cut of by S.O.S.! Shane Taylor and O'Shay Edwards join the fray. Todd Sinclair and Joe Mandek are clearing things up between the two as Lee cracks Castle with a pumping knee. As he sets up for the Incentrator Knee, Dak Draper appears and shoves Lee into Castle. Castle scoops up Lee and hits a second Bang-A-Rang for the pin and the title at 11:34! Castle has been talking about spicing up television for months now, so him being the television champion makes a lot of sense. The interference at the end was superfluous, but this match was still really excellent (shocker, I know.) Very curious to see what these two end up doing at Final Battle; a rematch would be acceptable. ***¼
NEXT WEEK: Rok-C defends the ROH Women's Championship against Gia Scott, and Jay Lethal faces EC3. A video with EC3 denouncing leaders, including locker room leaders like Jay Lethal, ends the episode.
Overall: The episode felt significant: Johnson gets momentum towards a Pure Championship match, our #1 Contenders match for the Women's Title challenger at Final Battle is set, and we have a new TV Champion. That makes this episode a thumbs up, and two of the matches being push that even further.